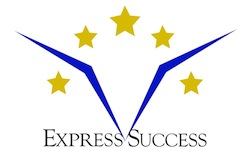 The angels see and know things we don't. Their input can make all the difference in the world.
Wayne, New Jersey (PRWEB) September 05, 2012
Express Success Founder, Dr. Joy Pedersen, has the ability to channel and communicate with angels. The angels told her to change the Express Success logo, which she did mid August. Immediately upon replacing the old logo, a dramatic shift in business occurred. As someone who can read energy, Pedersen could feel the difference with the new logo. It has a higher vibration. "When you raise the vibration of someone or something, higher vibration people and opportunities become magnetized." says Pedersen.
"I could feel the difference immediately but what surprised me was how quickly I saw different results in my business. More opportunity came easier and work overall became more effortless," says Pedersen. "I'm now sorry I didn't change the logo sooner."
Although Pedersen had desired to change the logo and brand it similar to another logo used for her Angel Enlightenment blog, where she shares messages she channels from God, angels and others, she didn't know exactly how she wanted it to look. After asking the angels for guidance, she was instructed to add five stars to what she was already considering.
This new logo is a better reflection of the business. As a spiritual healer, Dr. Joy Pedersen, works directly with heaven in helping people overcome their challenges. She has the ability to identify the subconscious cause of people's challenges whether affecting money, business, relationships, health or wellbeing. Using a spiritual healing process called ho'oponopono, a Hawaiian term meaning to correct, she helps facilitate the client releasing their negative memories, blocks and baggage holding them back.
Express Success was founded to help individuals overcome struggle to achieve success easier and more effortlessly. While working on the telephone with her clients, the angels sometimes provide messages as well as assistance identifying the cause and also in healing a situation. This new logo reflects their contribution more appropriately.
Joy Pedersen is a Licensed Spiritual Healer, Certified Spiritual Health Coach, Certified Law of Attraction Practitioner, Doctor of Divinity, and non-denominational ordained minister. She is also author of "Wisdom Of The Guardian: Treasures From Archangel Michael to Change Your Life", a book she channeled. Her international clientele consist of entrepreneurs, coaches, consultants, healthcare professionals and entertainers. She clears their energy, past, property and cause of their problems.
For more information, go to http://www.ExpressSuccess.net.