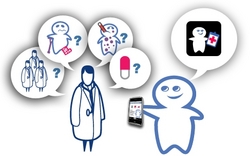 Doctors said that this was exactly the kind of clear, easy-to-read information that helped them to understand their patients.
(PRWEB) April 5, 2011
ExpressWell makes managing personal medical information fun and easy. Patients use it when visiting a doctor, as an at-a-glance summary of critical medical history, and as a reference tool in medical situations of all kinds.
Owners of iPhones, iPads, or iPod Touch devices can download the ExpressWell app and immediately start managing their profiles. Entering, retrieving, and updating health information is quick and intuitive. Patient privacy is critical, so ExpressWell's password protection option keeps the information safe from prying eyes. Patient information is not retained or uploaded to any web site; it never leaves the mobile device. The patients control who sees their personal health information and when.
"We really wanted a tool that we enjoyed using, and we didn't see anything out there that fit the bill," said co-founder Alexandra Yperifanos. "Our idea evolved from a paper document my father and I created in 1992 to track his health," she said. "He took this single sheet of paper with his critical medical information to every doctor visit, and insisted that the doctor read it at the start of the appointment. It made a tremendous difference in the quality of the visit." Doctors told Yperifanos that this was exactly the kind of clear, easy-to-read information that helped them to understand their patients. They appreciated that her father took the time to manage his information, and often said they wished they'd seen more patients doing this.
"We both believe that patients today should take the initiative, and truly own their personal medical information," said partner, Andrew Hill. "So we set out to create tools that would help them do that. We started with the iPhone market, from there we're developing desktop, other mobile device, and pet versions."
Yperifanos and Hill want to start a "mini-movement" in which patients are motivated to manage their own health information, and to participate actively in the conversations with their physicians. "Visiting your doctor shouldn't be scary," Yperifanos points out. "This is your appointment, it's your body, so why shouldn't you feel comfortable and in control? We created ExpressWell to make the conversation easier."
ExpressWell was inspired by the "KISS principle (keep it simple, silly)". The app makes managing health information a breeze, and the fun, intuitive interface makes a visit to the doctor a little less scary. ExpressWell is so simple to use that frankly, it's silly not to use it. In fact, for those without an iPhone, there's a free wallet card template as an alternative.
ExpressWell is available in the U.S., Europe, Australia and Canada in the iTunes App Stores.
ExpressWell, Inc. is a company devoted to making it easier to manage and communicate information. To learn more about ExpressWell, please visit http://www.express-well.com. ExpressWell™ is a trademark of ExpressWell, Inc. © 2009 ExpressWell, Inc.
###