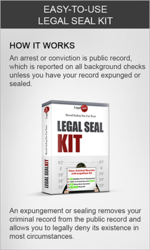 Pompano Beach, Fl (PRWEB) May 28, 2013
LegalSeal.org is pleased to announce a 100% money-back guarantee on its criminal record expungement kit.
LegalSea.org, a leading online resource for criminal record sealing and expunging, has gone above-and-beyond. In its zeal to serve the public and provide a quality product, the company has assembled the most accurate and reliable legal resources, documents, and instructions needed to wipe out or seal a criminal record.
Upon initially visiting their website, viewers are greeted with a free screening tool that determines their eligibility for an expungement or record seal. After answering five easy questions, the site visitor is directed to additional information about his or her specific state's legal processes pertaining to cleaning up a criminal history.
Damaging Effects of Criminal Records
Today's job markets are characterized by cutthroat competition. Prospective employers are conducting background and criminal history checks on job applicants in dramatically increasing numbers. A prior conviction or even an just an arrest that resulted in charges being dismissed or never filed, can have devastating effects on your future and career.
Even prospective landlords have begun performing such checks more frequently in recent years. This means that a small mistake or misunderstanding that occurred years or decades ago can prevent you from obtaining suitable housing. For more information about the damaging impact of having a criminal history on all aspects of life, visit http://www.nij.gov/journals/263/redemption.htm.
How Criminal Backgrounds Get Cleared
Arrest and/or conviction histories are sealed or wiped clean via court action. The individual who was previously arrested or convicted on a given charge initiates such proceedings. After filing all necessary letters, applications, or other required documents with the appropriate court, the judge reviews and then grants or declines the petition for relief.
In the past, attorneys who charged expensive fees for their services submitted the vast majority of such requests. The inability to afford a lawyer meant remaining trapped in the cycle of being judged by your criminal record and other economic and social disadvantages associated with having a criminal history.
Distinctions Between Expunging and Sealing a Record
If state law allows one to seal record, the general public is barred access to the details of the arrest or conviction but the record remains on file and reviewable by courts and law enforcement agencies. On the other hand, expungement has the legal effect of wiping the slate totally clean by clearing the record as if the conviction(s) never occurred. LegalSeal.org expunge packages have the capacity to assist individuals with criminal background sealing or expunging.
Accuracy is Essential
According to the U.S. Federal Bureau of Investigation, many instances wherein fingerprints are initially submitted to the National Crime Information Center ("NCIC") never have final dispositions submitted to NCIC. (See http://www.fbi.gov/about-us/cjis/fingerprints_biometrics/arrest-disposition-submission).
Although law enforcement agencies and personnel have the responsibility to maintain accurate and up-to-date information in national databases, the harsh reality is that it often does not happen. Trusting your future to overworked government employees is risky if you have been arrested or otherwise convicted or found guilty of a crime. LegalSeal.org provides all the necessary forms to ensure that complete dispositions are recorded about arrests that never resulted in convictions and records that have been sealed or wiped clean.
An Outstanding Value
LegalSeal.org kits contain all the needed materials to expunge felony or expunge misdemeanor criminal histories. The kits are available to the public for just $89.95 USD. This price is a tremendous savings in comparison to what attorneys charge to expunge a criminal record. There is nothing to lose by taking advantage of what LegalSeal.org has to offer. The 100% money-back guarantee on expungement assures purchasers of a full refund of the toolkit's purchase price if the court denies relief after all appropriate procedures have been followed as directed.