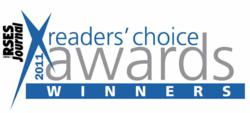 RSES cited the versatile inspection camera and thermal imager as among the most inquired-about products by readers in 2011
Nashua, NH (PRWEB) May 24, 2012
Extech Instruments announces a recent award recognizing innovative inspection and diagnostic tools designed to make it easier and safer for HVACR/mechanical professionals to get the job done.
RSES Journal Readers Choice
The affordable Extech BR250 Wireless Video Inspection Borescope Camera and the FLIR i7 Point-and-Shoot Infrared Camera received 2011 Readers' Choice Awards from RSES Journal. The publication of the Refrigeration Service Engineers Society, considered to be the "HVACR training authority," cited the versatile inspection camera and thermal imager as among the most inquired-about products by readers in 2011.
This "Finder" is a Keeper
The Extech BR250 video borescope/ wireless inspection camera is one of the few HVACR tools that truly has 1,001 uses for the contractor. It is packed with premium features at a price that even a one-person shop can afford.
Most contractors "get it" why a video borescope is useful on the job to see hard-to-reach or concealed areas. A new idea whose time has come however is a borescope with a wireless monitor that detaches for holding at a comfortable viewing angle while the contractor properly positions the narrow, 9mm-diameter borescope probe for inspection. Being able not just to see remotely but also take digital pictures and even record video can prove invaluable when performing inspections, diagnostics, or capturing before-and-after images for a client.
The wireless monitor can be taken 32' away in case the contractor needs to access remote panel controls or needs distance from a hazardous area during monitoring. Probe attachments (hook, angle mirror, and magnet) and extensions up to 3m total also add versatility to the borescope. No other video borescope/inspection camera comes close to the high-feature, high-value combination found in the BR250 from Extech.

Detachable, hold-in-your-hand color display
9mm & 17mm diameter cameras available
1m (39") waterproof, flexible probe cable
Take the wireless display up to 32ft/10m away
Capture 2GB of JPEGs or Video
To learn more about the Extech BR200 and BR250, visit http://www.extech.com/br250 .
About Extech Instruments
Extech Instruments is recognized as the source for the best handheld test and measurement tools worldwide. Founded in 1971, Extech is known for its depth and breadth of innovative testers and meters suited for electrical, HVAC, building/restoration, as well as a host of environmental testers for measurement of sound, light, humidity and other factors. All Extech meters are distributed worldwide through leading representatives, distributors and OEMs. The company is headquartered in Nashua, NH USA and is ISO 9001 2008 certified. Extech is a wholly owned subsidiary of FLIR Systems, Inc.