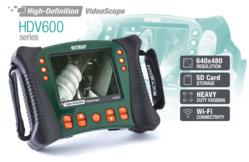 HDV600 videoscopes are designed for ruggedness, upgradeable versatility, and high-definition clarity.
Waltham, MA (PRWEB) September 02, 2011
Extech Instruments, makers of the best handheld test and measurement tools, announces the new Extech HDV600 series of High Definition VideoScope Inspection Cameras. These rugged, waterproof and drop-proof industrial videoscopes deliver images and video with remarkable sharpness and clarity regardless of job site conditions.
The HDV600 main display unit's large 5.7" (145mm) LCD monitor with 640x480 resolution is easy to view in outdoor sites, poorly lit industrial spaces, or aircraft maintenance facilities. SD memory capacity includes 15,000 image/4 hr. video capacity and audio annotations help eliminate manual note-taking.
No two jobs are alike and Extech meets this challenge with both macro and long depth of field camera tips in diameters ranging from 4-6mm. Macro optics are ideal for up-close inspections while long depth of field optics are suited for viewing larger or longer concealed areas. 10m and 30m long fiberglass cables feature 25mm optics. All HDV600 camera tips are equipped with adjustable LED lighting.
Users can select from a number of semi-rigid, flexible, and long-length-fiberglass scopes that connect to the display unit. Scope handsets are also available with wired connections to the main unit and wireless models for inspections up to 10m away.
Articulated controller handsets feature 320˚ articulated 6mm scopes and a large, glove-friendly, articulation control knob with adjustable resistance helping simplify inspections of detail-intensive equipment.
Extech Videoscopes are tested waterproof to IP67 standards and drop-proof to 2 meters.
Extech's HDV600 videoscope family offers a wide range of handset, optical, and scope length configurations ensuring users order the best combination for their requirements. As needs change, Extech's modular and upgradeable design makes it easy to adapt videoscopes to tackle tomorrow's newest challenge.
The new HDV600 models are available from authorized Extech distributors. To learn more, or to find a distributor, please visit http://www.extech.com/hdv600.
About Extech Instruments
Extech Instruments is recognized as the source for the best handheld test and measurement tools worldwide. Founded in 1971, Extech is known for its depth and breadth of innovative testers and meters suited for electrical, HVAC, building/restoration, as well as a host of environmental testers for measurement of sound, light, humidity and other factors. All Extech meters are distributed worldwide through leading representatives, distributors and OEMs. The company is headquartered in Waltham, Massachusetts, USA and is ISO 9001 2008 certified. Extech is a wholly owned subsidiary of FLIR Systems, Inc.
# # #