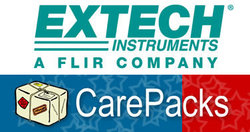 Weymouth, MA (Vocus) November 10, 2010
Extech Instruments is pleased to announce we will be donating $1,000 to CarePacks, an organization dedicated to sending care packages to US troops in Iraq and Afghanistan. The award will be given to Stephen Doyle, president of CarePacks at the annual WZLX live Veterans Day broadcast, November 11, 2010 from 5:30 -10 am. The event takes place at the Weymouth Elks Lodge on Route 53 as volunteers gather Care Packs to send to our troops in Iraq and Afghanistan.
Arpineh Mullaney, Extech vice president spoke about the donation, "As part of the FLIR Systems family, Extech has been able to support a number of local and national programs with a giving program based at our Waltham office. We're honored and humbled to commemorate the tremendous sacrifice and efforts of our soldiers who are defending our freedom every day. Working with such a focused and effective organization as CarePacks, here in South Weymouth, we hope that our support helps them to continue their valuable work supporting our troops with items that make our soldiers' lives a little easier."
As part of the FLIR mission, FLIR believes that it is our responsibility to support our countries and our communities. In addition to our Corporate Charitable Giving Program, each of our locations supports various local community initiatives as well as contributes to national and international disaster relief efforts. It is another way we make a difference in our world.
About CarePacks
CarePacks is a non-profit organization—staffed and managed entirely by volunteers—that is dedicated to sending care packages to US troops in Iraq and Afghanistan. Founded in 2004, CarePacks' goal is to provide these soldiers with supplies to help improve their morale, mental health, and quality of life, and to remind soldiers that they are remembered by people "back home."
CarePacks' care packages contain high-calorie food products, undergarments, personal care items, books, magazines, and more. Each package also contains at least one letter or card from a child so that the soldier who receives the package has a personal connection to someone back in the United States. CarePacks coordinates its efforts with local schools, Cub Scout packs, Boy and Girl Scout troops, churches, and other organizations to involve the community in the support process and to inform them about the needs of US military personnel.
Visit http://www.carepacks.org to learn how you can support CarePacks through care package material donations and volunteering.
About Extech Instruments, a FLIR Company
Headquartered in Waltham, Massachusetts, USA, Extech Instruments is one of the largest suppliers of test and measurement equipment worldwide. Founded in 1971, Extech is known for its depth and breadth of products and its innovation in providing instruments with unique combinations of features that make them highly useful and very convenient. All Extech meters are distributed worldwide through leading representatives, distributors and OEMs. The company is ISO 9001 2008 certified and is a wholly owned subsidiary of FLIR Systems, Inc.
About FLIR Systems:
Pioneers in all aspects of infrared and lowlight imaging technologies, FLIR designs, manufactures, and supports thermal imaging systems and subsystems for industrial, scientific, government, commercial, and firefighting applications. With a 40-year history of infrared innovation, +100,000 systems in use worldwide, and development centers and sales offices in over 60 countries, FLIR is the world leader in thermal imaging technology. Visit the company's website at http://www.FLIR.com.
Contact:
André Rebelo
Global PR Manager, Extech Instruments
office: 781-434-3901 andre (dot) rebelo (at) extech (dot) com
###