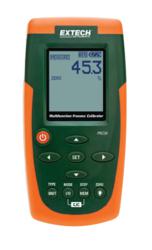 Customer feedback helped us develop the PRC's as high-function, high-value process calibrators.
Nashua, NH (PRWEB) January 11, 2013
Extech Instruments, makers of the best handheld test and measurement tools, announces the introduction of the new PRC line of process calibrators to test transmitters, transducers, indicators, sensors and other industrial process components. The four new meters -- PRC10, 15, 20 and 30 -- offer plant and electrical technicians simplified controls to monitor and calibrate process systems easily for optimized operation.
Extech PRC calibrators feature an ergonomic, compact design with a durable housing made for long service life. Large, illuminated dot-matrix dual displays ensure easy viewing of both source readings and measured values like loop current, temperature, voltage, etc. Up to five configurations can be programmed by the user for expedited testing. Available AC power makes it easy to perform continuous or extended testing in the field or on the bench.
The PRC Series includes the following models:

PRC10 Current Calibrator: Source: 0-24mA; measure 0-50mA; 24VDC loop power
PRC15 Current & Voltage Calibrator: Source: 0-24mA and 0-20V; measure 0-50mA and 0-20V
PRC20 Thermocouple Calibrator: Source and measure 8 thermocouple types: C, E, J, K, N, R, S and T; -10-60mV
PRC30 Multifunction Process Calibrator: all features of PRC10, 15, and 20 combined
Mike Fox, general manager of Extech Instruments, spoke about the new PRC series, "Customer feedback helped us develop the PRC's as high-function, high-value process calibrators with more of what users wanted: flexible and easy-to-use testing and calibration capabilities. The PRC series equips users with advantages that make a difference like a double display to see output and input readings without needing to toggle back and forth. Extech PRC users discover the calibrators are simple to use right of the box."
The PRC10, PRC15, PRC20 and PRC30 each come complete with a hard carrying case, universal AC adaptor, test leads, alligator clips and/or thermocouple calibration cables, plus six 1.5V AA batteries. The new line is available from authorized Extech distributors around the world. To learn more, or to find a distributor, please visit http://www.extech.com.
About Extech Instruments
Extech Instruments is recognized as the source for the best handheld test and measurement tools worldwide. Founded in 1971, Extech is known for its depth and breadth of innovative testers and meters suited for electrical, HVAC, building/restoration, as well as a host of environmental testers for measurement of sound, light, humidity and other factors. All Extech meters are distributed worldwide through leading representatives, distributors and OEMs. The company is headquartered in Nashua, NH USA and is ISO 9001 2008 certified. Extech is a division of FLIR Commercial Systems, Inc.