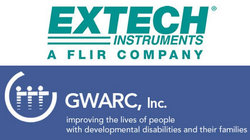 Waltham, MA (Vocus) December 10, 2010
Extech Instruments is pleased to announce its sponsorship of the 2010 Harvest Breakfast in support of Waltham-based GWArc, a non-profit organization serving people in the community with developmental disabilities and their families. The 40th annual fundraiser, held at the Waltham Doubletree Hotel on October 24, 2010, successfully raised a record-breaking $57,400.
Arpineh Mullaney, Extech vice president spoke about the donation, "Extech is grateful to assist GWArc in continuing and developing its vibrant, life-giving and empowering programs. We're honored to be a multi-year supporter of GWArc and to add this special dimension as a sponsor of GWArc's biggest annual event. As part of the FLIR mission, FLIR believes that it is our responsibility to support our countries and our communities. In addition to our Corporate Charitable Giving Program, each of our locations supports various local community initiatives as well as contributes to national and international disaster relief efforts. It is another way we make a difference in our world."
About the Greater Waltham Arc:
GWArc's mission is to serve people in the community with developmental disabilities and their families, utilizing a person-centered, whole life planning approach. We provide quality, flexible programs and services which maximize independence, foster inclusion and build community connections. GWArc's programs are based upon self-determination, sound teaching practices and the latest technology. A private nonprofit organization founded in 1956 by a group of concerned parents, GWArc is uniquely sensitive to the level of personal support required for individuals to thrive. We have proven experience with the inclusion of all people into the community. Visit http://www.gwarc.org to learn more and support GWArc.
About Extech Instruments, a FLIR Company:
Extech Instruments is recognized as the source for the best handheld test and measurement tools worldwide. Founded in 1971, Extech is known for its depth and breadth of innovative testers and meters suited for electrical, HVAC, building/restoration, as well as a host of environmental testers for measurement of sound, light, humidity and other factors. All Extech meters are distributed worldwide through leading representatives, distributors and OEMs. The company is headquartered in Waltham, Massachusetts, USA and is ISO 9001 2000 certified. Extech is a wholly owned subsidiary of FLIR Systems, Inc. Visit http://www.extech.com.
###