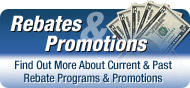 These special offers are ideal for electrical contractors, plant predictive/preventive maintenance technicians, and HVACR/mechanical professionals.
Nashua, NH (PRWEB) May 16, 2012
Extech Instruments, (http://www.extech.com/instruments), makers of the best handheld test and measurement tools, announces several limited-time special offers for electrical contractors, plant predictive/preventive maintenance technicians, HVACR/mechanical professionals, and other test equipment users.
Free 8-piece Electronic Test Lead Kit
For electrical professionals, purchase an Extech EX430 True RMS Autoranging Professional Multimeter and get a free 8-piece Electronic Test Lead Kit (#TL809) with 1m leads, plunger hooks, alligator clips, and partitioned storage pouch.
Free 3-Tool Electrical Troubleshooting Kit
For plant maintenance and HVACR/mechanical technicians, purchase Extech's innovative VIR50 Infrared Video Thermometer and get a free troubleshooting electrical test kit, model MN24-KIT, which contains a 7-function digital multimeter with battery-testing capabilities (#MN24), a non-contact voltage detector (#40130), and a useful receptacle tester (#ET15)—all in a protective storage case.
Free Premium Voltage Detector Flashlight
For electrical contractors and industrial service technicians, purchase Extech's useful MA620-K combination industrial test kit with a drop-proof and waterproof EX505 DMM and 600A Clamp Amp-Meter and be eligible to receive a free premium 2-range AC voltage detector with a built-in LED flashlight. This voltage detector features an on-demand Low Range function for detection of voltage as low as 24VAC.
Free Moisture Hammer Probe
For disaster restoration, mold remediation, and water damage repair companies, the purchase of Extech's unrivaled 8-in-1 noninvasive moisture meter and psychrometer with a built-in IR Thermometer qualifies for a free moisture hammer probe (MO290-HP) with weighted slide hammer for deep penetration of its sharp 1.6" pins in hard building materials.
To learn more about these special offers, download forms, and to view complete terms and conditions, visit http://www.extech.com/instruments/promos.asp.
These special offers are available through June 30, 2012 and only for US residents. Instruments are available from authorized Extech distributors. Giveaways are only available in relation to the purchase of a new, qualifying Extech product only. Used, remanufactured or re-furbished Qualifying Products or products that are purchased on online auction sites are not eligible for this giveaway. Limit one giveaway per person.
About Extech Instruments
Extech Instruments is recognized as the source for the best handheld test and measurement tools worldwide. Founded in 1971, Extech is known for its depth and breadth of innovative testers and meters suited for electrical, HVAC, building/restoration, as well as a host of environmental testers for measurement of sound, light, humidity and other factors. All Extech meters are distributed worldwide through leading representatives, distributors and OEMs. The company is headquartered in Nashua, NH USA and is ISO 9001 2008 certified. Extech is a wholly owned subsidiary of FLIR Systems, Inc.