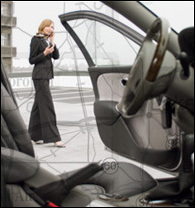 Winter driving costs this nation so many lives every year. This year has been especially bad. If people took a little more time to be a little more cautious and prepared, our roads would be safer for everybody
Lynnwood, WA (PRWEB) March 1, 2007
As some parts of America are hit with record-breaking snowfall and deathly cold temperatures, drivers are being warned about the dangerous conditions on the roads.
Continental Warranty, an extended auto warranty company, has added "Safe Winter Driving Tips" to their online resource center to keep drivers safe in any bad weather conditions. As an extended car warranty company, Continental Warranty has been taking care of traveler safety for almost 20 years.
"Winter driving costs this nation so many lives every year. This year has been especially bad. If people took a little more time to be a little more cautious and prepared, our roads would be safer for everybody," said Bob Nelson, General Sales Manager. "At Continental Warranty, we are dedicated to taking care of travelers, but we also want to teach them how to take care of themselves."
Even in good weather it is important for drivers to ensure their vehicle is in top form. But in hazardous weather it is vital to prepare the vehicle for the worst. Drivers must beware of the possibilities: dead batteries, frozen door locks, bald tires, worn windshield wipers and a dysfunctional defroster. These problems can hinder travel and create emergencies, in some cases stranding drivers in dangerous circumstances.
Winter travelers should check fluids, battery and lights for starters and should always carry extra water, blankets, food and a cell phone. Drivers should allow themselves plenty of time to prepare for and reach their destination - this involves scraping off ice and snow from all windows and driving more slowly and cautiously than usual.
Sometimes weatherizing isn't enough and drivers need extra peace of mind when it comes to protecting their cars. Continental Warranty specializes in consumer-direct extended car warranties. This type of warranty kicks in when the dealership warranty ends and can cover new and used cars up to 10 years old or less than 150,000 miles. The extended car warranty lengthens benefits that many drivers think only last for their initial warranty like roadside assistance, car rental and trip interruption benefits such as lodging and meals. Continental Warranty's extended auto warranties are accepted by all licensed mechanics in the U.S. or Canada and payments are handled seamlessly over the phone.
For more information on extended car warranties and to see the comprehensive list of Safe Winter Driving Tips by Continental Warranty, visit http://www.continentalwarranty.com.
About Continental Warranty
Continental Warranty is a leading consumer-direct warranty company that offers comprehensive warranty coverage by established and reputable insurance providers at wholesale prices. For almost 20 years, Continental Warranty has been helping consumers all across the country save money and gain peace-of-mind with affordable extended auto warranties by cutting out the middleman and selling directly to the consumer. Continental Warranty provides broad coverage for most makes, models or budget with value bonuses such as free roadside assistance, car rental and trip interruption benefits.
###