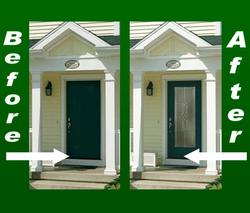 We developed this product for Realtors who need to differentiate their client's home from the huge unsold inventory of existing homes
Oakdale, MN (PRWEB) April 17, 2009
For as little as $100 plus the cost of labor, realtors can recommend to their clients a home makeover which will greatly increase the value of their home. Under the Heritage Craft Retro-fit program from Heritage Millwork, professional contractors will install a custom door-glass kit into existing steel and fiberglass front entry doors.
"We developed this product for Realtors who need to differentiate their client's home from the huge unsold inventory of existing homes," said Jack Lee Vice President of sales at Heritage Millwork, Inc. "Our solution not only includes the door-glass in a great variety of styles, but door frame cladding as well," said Mr. Lee.
"At a fraction of the cost of the door and frame replacement," said Jeremy Whitney of Heine & Lange Construction, Inc. "We can in just a few hours time completely change the curb appeal and bring natural light into the dark foyers of many existing homes."
"Realtors should be able to take their clients home to the next key retail price point with the door cladding and custom in-door glass installed," said Scott Nelson, of White Bear Construction, "The Heritage Craft Retro-Fit program has to be one of the home owner's best return on investments they can make," said Mr. Nelson.
"We are proud that Heritage Millwork chose Glenbrook Lumber to launch their national program," said Gene Heger, President of Glenbrook Lumber & Supply. "We would like to invite other professional contractors in the Twin Cites to contact us about supporting realtors in their markets," stated Mr. Heger.
Realtor and consumer information on door glass insertion for the Minnesota Minneapolis/St. Paul market contact:
Scott Nelson
President
White Bear Construction and Carpentry, Inc
2222 7th Street
White Bear Lake MN 55110-2814
P. 651-429-7877
Jeremy Whitney
Company Owner
Heinen & Lange Construction, Inc
12621 246th Street
Chisago Lakes Township, MN 55013
P. 651-248-5164
W. http://www.heinen&lange.com
Contractor information on the Heritage Retro-Fit Program for Minnesota Minneapolis/St.Paul Market contact:
Gene Heger
President
Glenbrook Lumber & Supply
5215 Gershwin Ave. North
Oakdale MN 55128
P. 651-770-9071
W. http://www.glenbrooklumber.com
###