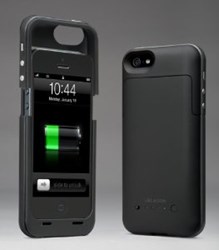 Denver, Colorado (PRWEB) April 16, 2013
For the past few months, accessory producers for iPhone 5 have been releasing power products one after another, each more appealing than the other, but after all these rollouts, the market offer for iPhone 5 battery cases is to some extent leveled.
Consumers are having a hard time identifying the best such products, seeing as most as priced the same, although some key aspects will vary. Ironclad Integrity Unlimited Ltd via http://www.iPhone5BatteryCase.net is currently indexing all of these products, in an attempt to give the buyer a full picture of the market offer today.
Like many other battery cases and external batteries for iPhone 5, i-Blason is a brand that is popular, but not as visible in the market as products designed by iBattz or PowerSkin. Despite that, the company's power accessories have made it into most iPhone 5 Battery Cases tops with popular review websites, including the Ironclad Integrity Unlimited Ltd. online division dedicated to the subject.
i-Blason PowerSlider is an iPhone 5 rechargeable external battery glider that offers protection and a 2200 mAh battery, as well as a design that is particulate on using the Apple Lightning port. The external battery is attached to a case that makes it possible to charge both the smartphone and the accessory via the Apple Lightning cable. Reviews and performance tests showed that the i-Blason PowerSlider external battery will provide 1.2 times more battery than the iPhone 5's standard 1440 mAh battery. It is $10 less than the majority of $80 battery cases available at present.
i-Blason PowerSlate Plus is a 2800 mAh battery case that gives iPhone 5 a battery life 1.5 times more than the device's in-built battery. It also sells for $69.95, making it a very competitive product, since it offers more mAh power than the market's frontrunner, the uNu Ecopak 2500 mAh battery case. It was also designed to work specifically with the new Apple standard, the 8-pin Power Cable.
iPhone5BatteryCase is an online division of Ironclad Integrity Unlimited LTD., released shortly after Apple's rollout of iPhone 5. The website was built following consumers' request for a website that will accurately and objectively review the significant variety of iPhone 5 battery cases that were released over the past few months.
The website's mission is to give buyers an accurate image of the current online market for power accessories for iPhone 5. Apart from reviews and price analysis, the website also looks at ways to save iPhone 5's battery life without impacting the app usage and the overall entertainment experience of the user.