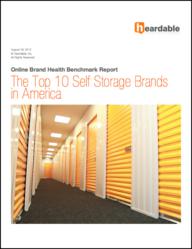 Extra Space averaged 1,164 new Facebook likes per month, a staggering 4,211% higher monthly growth rate than it's top competitors.
Los Angeles, CA (PRWEB) August 21, 2012
Today Heardable, Inc., (http://heardable.com), the standard for measuring online brand performance, announces the release of its latest research report, The Top 10 Self Storage Brands in America. Extra Space Storage earns the #1 position in a field of strong competitors.
According to the research, Extra Space Storage's brand health score of 612 out of 1,000 possible points beat its nearest competitor, CubeSmart, by 4 points, or .65%, and surpassed third place Public Storage by 42 points, or 6.69%. The gap between Extra Space Storage and lowest-ranked Storage West was 323 points, or 52.78%.
So how did Extra Space Storage rise to the position of category leader?
1) social media participation
2) search engine optimization
3) mobile website optimization
A drill down into social media reveals some amazing insights. For instance, over the past several months, 3 of the top 4 self storage brands garnered, on average, 27 new likes per month on their Facebook pages:
CubeSmart = 24 new likes per month
Public Storage = 26 new likes per month
Uncle Bob's = 30 new likes per month
While that number may seem adequate by normal business standards, consider this. Industry-leading Extra Space Storage averaged 1,164 new Facebook likes per month, a staggering 4,211% higher monthly growth rate than it's top competitors.
How is Extra Space blowing past its competitors -- and what strategy is driving this serge?
In the company's Q2 2012 earnings call, Karl Haas, Chief Operating Officer for Extra Space, said, "We continue to gain market share from our smaller competitors by leveraging our size, resources and sophisticated systems, and we are driving traffic to our websites and properties."
"American's take great pleasure in owning things, said Jon Samsel, Heardable co-founder and CEO. "And popular reality shows like Storage Wars are fanning the desire to acquire even more stuff. This has created a huge market opportunity for forward-thinking brands like ExtraSpace Storage. They're doing things like syndicating content across social media to win over new fans and spread positive word-of-mouth. For example, ExtraSpace sponsors a live chat session series on Facebook hosted by two highly respected, professional organizers: Josh Zerkel and Lisa Zaslow. Popular brand outreach programs like this are extending the company brand into the personal organization space and helping to generate greater shareholder value -- a smart move for ExtraSpace."
The Top 5 Self Storage Brands Online, Ranked by Heardable
1. Extra Space Storage
2. CubeSmart
3. Public Storage
4. Uncle Bobs
5. Storage Masters
Heardable research does not rely on aggregate cookie data, customer opinions or satisfaction with particular brands. Instead, the Heardable brand monitoring platform studies how effective each brand performs according to 800+ online marketing metrics and best practices. Brands are examined and benchmarked based on measurable performance data, rather than estimates or opinions.
To learn more about this report, go to:
http://heardable-reports.myshopify.com/products/the-top-10-self-storage-brands-in-america
To learn more about Heardable's research methodology or to get insights into other brands, contact marketing(at)heardable(dot)com or call 1-888-520-0034.
About Heardable
Heardable is the world's first and only real-time contextual brand analytics platform that measures the online health of brands across hundreds of business categories. With its Growth and Accelerator platform-as-a-service offerings, Heardable helps organizations make smarter, faster business decisions to impact tomorrow's quarterly results. With over 15 million brands profiled and 800 unique online variables capture per brand at various points in time, Heardable's "big brand data" repository can be utilized by any business looking for ways to optimize their online performance, boost brand awareness and increase revenue. Heardable, Inc. is a privately held company based in Southern California with an office in Singapore.