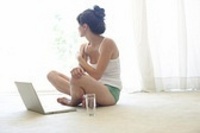 We are not part of the sex industry
(PRWeb UK) June 15, 2010
Loving Links, the UK's longest established extramarital dating site, has recently provided a special platform for its female users to blog openly about their adulterous adventures. The take-up has been excellent and has contributions from women in their 30's through to their late 50's. Loving Links has always had a blog page – David's adultery blog – which looks at adultery in general whereas the confessional blog is always from a member's life-experience perspective. There is already a waiting list of users who want to open their souls on the blog but the site is being very selective on the contributions that are posted. The main reason women have given for blogging on the site is that it is 'cathartic and 'liberating' and offers a sort of 'cyber-therapy' that can help them make more sense of their situation and their ways of dealing with it. The bloggers – who can choose anonymity – also know that their outpourings will be read by a sympathetic group of readers.
David Miller who founded the site has always seen his mission as to provide a support network for married people to explore friendships/relationships outside their marriage and to do so in a safe and friendly environment. "We are not part of the sex industry," says Miller, "we see ourselves as an elegant solution to the problem of long-term celibate marriages and the enormous financial cost of divorce." Miller, who lived in Rome for many years, explains that Loving Links enables thoughtful men and women to enjoy an 'Italian-style divorce' which avoids the finality of divorce by allowing the partners to explore intimacy elsewhere whilst retaining the social status of a marriage.
Setting up the new 'confessional blog' coincides with Loving Links' 15th anniversary when it started as an informational resource and discussion forum for people in lonely marriages. During those 15 years the site has grown into a busy dating area with thousands of U.K members and provides daily news articles on everything to do with adultery and discreet dating. This is obviously a growth area since the cost of divorce remains resolutely high and marriages are being subjected to high degrees of stress from the economic situation and the long working hours that are typical of the British economy. "Frankly," says Miller, "Any marriage that can run smoothly in the 21st century is beating the odds."
# # #