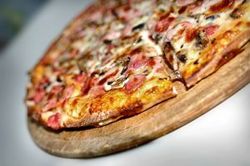 The Best San Francisco Pizza Tour
San Francisco, CA (PRWEB) March 22, 2009
Extranomical Adventures, a San Francisco tour operator, is unveiling the "The Best San Francisco Pizza Tour" on Tuesday, March 24th. "The Best San Francisco Pizza Tour" will visit 3 different well-known pizzerias in San Francisco and hotel concierges will vote for their favorite pizzeria. "The Best San Francisco Pizza Tour" will be a fun way for concierges to get to know local pizzerias they can recommend to their guests.
"The Best San Francisco Pizza Tour" will visit Arizmendi Bakery, Pauline's Pizza, and Pizzeria Delfina, who will each provide a sampling of some of their best pizzas. These pizzerias have been chosen because of their popularity among pizza aficionados and the variety of pizzas they offer. This tour is part of an effort by Extranomical Adventures to come up with ideas that are creative and fun. Rodrigo Enriquez, the president of Extranomical, says, "We need to think of new ways of differentiating ourselves from other tour companies by offering unique and inventive tours that you won't find anywhere else". He has done this in the past with a tour, called "Sex in the City" which followed the sexual history of San Francisco from the Gold Rush and the Summer of Love to the present day. More information about this tour is at http://www.sexinthecitytours.com. He is also offering a series of wine country tours geared towards local San Franciscans who want to get away from the tourist traps of the wine country, called "SF Wine for locals". Further information on these tours is at http://www.sfwineforlocals.com.
This is the first time that Extranomical Adventures is offering "The Best San Francisco Pizza Tour", but Enriquez hopes that this tour will become a popular tour for San Francisco locals, as well as tourists visiting San Francisco. Matt Delaney, a concierge from the Hyatt Fisherman's Wharf has this to say about the upcoming tour: "From someone who keeps an ongoing list of all the pizza joints he has tried in SF let me just say I can't wait for this! It brings me back to my college days when pizza was on the menu virtually every single day!" For more information about this tour, please go to the website at http://www.extranomical.com/HTML_PAGES/BESTPIZZATOURSF.htm.
Contact Information:
Extranomical Adventures
690 Fifth St. Suite #205, San Francisco
415-357-0700
http://www.extranomical.com
Extranomical Adventures, Inc. was founded in 2002. They lead daily tours to Yosemite National Park, Muir Woods, and the Sonoma and Napa wine country in small groups.
Arizmendi Bakery
1331 9th St., San Francisco
415-566-3117
http://www.arizmendibakery.org
Arizmendi Bakery is a food co-operative, boasting sauceless and meatless pizza, which fans say goes un-noticed on these tasty delights.
Pauline's Pizza
260 Valencia, San Francisco
415-552-2050
http://www.paulinespizza.com
Pauline's Pizza is a pizzeria where the emphasis is on the fresh ingredients used in their pizzas and salads, which are all grown in the owner's Berkeley garden.
Delfina Pizzeria
3611 18th St., San Francisco
415-437-6800
http://www.pizzeriadelfina.com
Pizzeria Delfina is a friendly neighborhood pizzeria with traditional Italian-inspired pizzas, using fresh and seasonal California ingredients.
Press Contact: Kelse Schapp
Phone Number: 415-357-0700
###