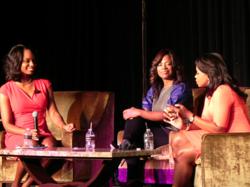 St. Louis, Missouri (PRWEB) March 22, 2012
The Vatterott College ex'treme Institute by Nelly Speaker Series commenced March 1 with Real Housewives of Atlanta co-stars Kandi Burruss and Phaedra Parks. Fans and aspiring musicians attended the event at Lumiere Place Casino to learn about the Housewives' careers in the music industry and being on the popular Bravo reality show.
News Channel 5 reporter and anchor Courtney Gousman interviewed the Housewives before opening the floor to the audience for questions. The evening included sharing inspirational anecdotes about Burruss and Parks struggles and successes as well as offering advice on becoming successful in a music career.
"Stay relevant," advised Burruss, an award-winning songwriter for the group Destiny's Child and artists like Whitney Houston and Mariah Carey. Both Burruss and Parks, an entertainment attorney, put emphasis on the importance of "wearing multiple hats."
The evening also contained entertainment news – in true Housewives style. Singer and host of the web show Seviin at 7, Seviin Li, joined cohost and comedian Darius Bradford on stage to open the event.
The Vatterott College ex'treme Institute by Nelly Speaker Series is designed to help educate aspiring musicians about how to break into today's music industry, whether as a producer, engineer, singer or songwriter. Information about future speakers will be available at http://www.eibynelly.com.
About Vatterott College Ex'treme Institute by Nelly
Founded in 2011 by Vatterott College and St. Louis native Nelly, ex'treme Institute by Nelly-St. Louis is dedicated to providing those passionate about music with the right skills and education to extend their knowledge of recording engineering, production and design. Students get hands on training and the opportunity to work alongside top artists, producers and engineers in today's music industry. To learn more, please visit http://www.eibynelly.com.