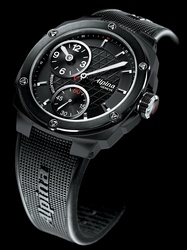 The Alpina Avalanche Extreme Regulator is a watch that thus fully corresponds to its ambition of a resolutely sporting model, endowed with all the necessary qualities: sturdiness, reliability, water resistance, precision, unbeatable quality/price ratio. It asserts itself by a distinctive yet not flashy identity
GENEVA (PRWEB) October 7, 2008
The distinguishing features of the Alpina Full Black Extreme Regulator are its off-centre hour display at 10 o'clock and its totally matt black look. What is more, the bridges, ratchet-wheel and barrel are all decorated, investing the watch with a powerful character at the service of precision. All Alpina watches are Swiss Made and produced at its Manufacture in Geneva.
The movement matches the overall logic behind this Swiss watch. Simple, sturdy and efficient, Calibre AL-650 is a Unitas base movement. Its diameter of 16.5''' would normally have destined it for pocket-watches, which makes it a powerful "engine" and protects it effectively from shocks and from the influence of all the factors that can affect the timing, the reliability and the durability of its components. It is a mechanical hand-wound movement with a 42-hour power reserve. Its finishing details are meticulously executed while not outrageously pretentious. The crown-wheel and ratchet are sunbrushed, whereas the bridges are decorated with Côtes de Genève and also blackened by a PVD treatment. Its most significant "in-house" personalisation lies in its regulator-type displaying combining the advantage of excellent readability with that of extremely reduced energy absorption. The hour hand is thus off-centred at 10 o'clock, while the minute hand occupies the dial centre. Both are white and coated with Superluminova, making it ideally visible against the black dial case, whatever the surrounding lighting conditions. A small seconds completes the picture at 6 o'clock. The two applied hour and seconds dials are rimmed by a circular satin-brushed silvered ring. The graduations of the various indications correspond to those one would expect for technical or sporting use. No superfluous decorations or indications spoil the functionality of this exemplary display.
"The Alpina Avalanche Extreme Regulator is a watch that thus fully corresponds to its ambition of a resolutely sporting model, endowed with all the necessary qualities: sturdiness, reliability, water resistance, precision, unbeatable quality/price ratio. It asserts itself by a distinctive yet not flashy identity," said Peter Stas.
The discretion and humility of this Geneva-based brand make this model a prime choice for those not seeking ostentation but with a preference for exclusive and authentic products. Lastly, the quality/price ratio of the Alpina Avalanche Extreme Regulator is unbeatable. A price well under three thousand US$ makes it genuinely affordable for any budget.
Technical Information – Alpina Extreme Full Black Regulator
Movement: Mechanical hand-wound, AL-650 42-hour power reserve Bridges decorated with Côtes de Genève Ratchet-wheel and barrel in matt black PVD with sunray decoration Functions: Hours, minutes, seconds Case: Matt black, PVD stainless steel 48 mm in diameter Sapphire crystal front and back Screw-down crown with Alpina triangle in red enamel Individually numbered Water-resistant to 200 m Dial: Black regulator with Alpina logo motif at 3 o'clock. Centre minute hand, hour dial at 10 o'clock and seconds dial at 6 o'clock. Applied polished hour-markers, luminescent hands Bracelet/Strap: Rubber with buckle Retail price: $ 2,790 About Alpina
Alpina is an independent family owned watch manufacturer based in Plan-les-Ouates, Geneva. Founded in 1883, Alpina celebrates its 125th Anniversary in 2008 and is developing into a cool Sports & Lifestyle brand with its new, contemporary-design Extreme collections. The company is involved in all stages of Watch Production, from initial design to final assembly and quality control. Each watch is assembled by hand and extensively controlled with latest equipment to ensure maximum quality. The company innovates to offer creativity and exceptional value. Its factory in Plan-les-Ouates Geneva is ultra modern and offers the best environment for its watchmakers. Production will reach 10'000 timepieces in 2008. More information can be found at http://www.alpina-watches.com or blog.alpina-watches.com.