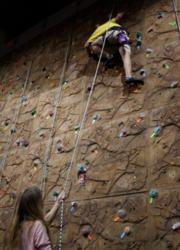 We are spreading a wide net with exciting new Extreme Fitness ways to engage people to enjoy getting fit once again. Kids as well.
Santa Clarita, CA (PRWEB) July 30, 2012
The Fitness Compound's own TRX coach Brandon says, "We are seeing a good number of new people every day that are very interested in the more extreme disciplines in MMA & the Martial Arts, just to name one". The Fitness Compound offers the entire family many exciting options, including a 30' high rock wall for the ultimate in vertical fitness and that is a hit with the young who are eager to participate, according to Mr. Cohen, co-owner of The Fitness Compound. We are getting kids and young adults interested in fitness once again and that is very exciting".
Brandon went on to state that The Fitness Compound already has over 400 group training classes each month (89 martial arts alone) and 6 workout floors. He said, "both old and young, 5+ years and up, are enjoying Kickboxing, Zumba, Yoga, Pilates, MMA, Martial Arts, Cardio Karate, Krav Maga, Self Defense, Rock Climbing, Cycle, Boxing, TRX, Kung Fu, Tai Chi and so much more". With all those disciplines and along with group and individual training one might see why they are growing so rapidly in their area. Mr. Cohen said, "Our new members are coming from the surrounding areas of Canyon Country, Newhall, Saugus and Valencia. We are spreading a wide net with exciting new ways to engage people to enjoy getting fit once again.
Chuck Heacock, one of the owners, says "If group instruction isn't your thing, they offer a wide assortment of strength training and cardio equipment with TV entertainment." I spoke to a few of the members and it seems whether you want to lose a few extra pounds or train for a marathon, their instructors and trainers will offer friendly inspiration when you need it to keep going. The Fitness Compound offers the entire family many exciting options. "The Fitness Compound...Evolution of Fitness" in Santa Clarita and surrounding areas, is the mantra of the day every day according to the members I spoke to.
The Fitness Compound is a locally owned and operated facility. The staff is professional and focused on delivering outstanding service to the members. They employ unique training methods and workouts to push members threw plateaus and get them in the best shape of their life. Working out is fun and enjoyable. "If you have been doing the same thing for over 6 months and not getting the results then it's time for change", is what I heard a member say on a recorded testimony.
They encourage families to train together and The Fitness Compound offers the latest equipment, cardio with TV's, rock wall, basketball court, 2 matted martial arts training floors, large MMA cage, a heavy bag room and more. Classes include martial arts for kids, MMA for adults, Zumba, Zumba Toning, Zumbatomic, Yoga, Pilates, Cycle, Kickbox, iLoveKickboxing, TRX, Basketball, Rock Climbing, Boot Camps... and exclusive classes like Armed & Dangerous, Lights Out, Miami Mama, Ballet Bar and more. The Fitness Compound seems to have what ever one needs to get back in shape.
They encourage families to train together and offer classes for all ages as well as Child care for children 6 months and older. The Fitness Compound seems to be more of an experience than a weight loss center. From the 30' high rock wall to private trainers the members I spoke to or heard testimonies from get very excited about their personal fitness journey because of the staff at The Fitness Compound. I was also just informed that they are installing three new Tanning Beds for their clients as this was a recommendation by their members.
The Extreme FitCompound.com has been open for a little over a year and on the 14th of July this month, the staff organized a customer appreciation event to thank their members. Kimberley, a yoga and Pilates instructor said, "We had a great turn out and everyone enjoyed the family atmosphere. She went on to say "but then again, we are all family here anyway".
To check out for yourself what everyone in Santa Clarita is talking about, including the three new tanning beds! Call or stop by for a free workout on them! Mention PRWeb as a coupon code and receive a free evaluation by one of their personal trainers or a free one day pass. Ask for Brandon when you arrive or call and set up a time convenient to your schedule.
The Fitness Compound™ is more than a gym, it's an experience designed to help every member of your family get fit and stay healthy.
Members will accomplish their workout goals through a variety of physical activities – from traditional free weights to martial arts to sports performance training.
Having all of these physical activities under one roof means there's something for everyone in the family – they won't have to run all over town to different facilities.
Physical Location
The Fitness Compound, llc
18655 Soledad Canyon Road
Santa Clarita, CA 91351
1-661-347-1111
http://fitcompound.com