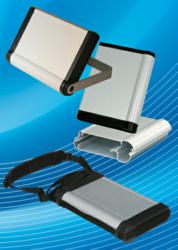 ROLEC's mobilCASE enclosures have always been highly versatile and easy to customise thanks to their extrusion-based design.
Fareham, Hampshire (PRWEB UK) 20 February 2013
ROLEC has extended its mobilCASE range of handheld extruded enclosures with new case combinations and accessories.
It enables these robust and highly attractive aluminium cases to be used in even more applications.
ROLEC mobilCASE enclosures can be used for either cable connected or battery powered equipment such as data-collection units, machine controllers, robot programmers and test and measurement devices.
The new configurations include portable models with shoulder straps and bump protection.
There are also desktop models with a tilt stand which can be set at different angles, and display models with swivel brackets which can be fitted to a desktop, wall or control panel.
A new holder accessory also allows mobilCASE industrial housings to be stationed on a pole or bracket when not in use.
The construction of these enclosures consists of a single or two-piece anodised aluminium case body with internal guide rails.
Two black die cast aluminium end panels are fitted to the extrusions using self-tapping screws. The cases can be sealed to IP65 protection class.
The innovative mobilCASE design incorporates a round edge section which is very easy to hold. It also acts as a battery compartment. An M16 cable gland can be fitted in place of the battery compartment, allowing for cable connection to the host machine.
The extended range now consists of 12 standard sizes with external dimensions from 118 x 120 x 80 mm to 168 x 240 x 130 mm. The recessed top section can be used for mounting push-button switches, membrane keypads, a joy-stick or tracker ball controls.
ROLEC can supply these enclosures fully customised with extra holes for push-buttons, displays, connectors and cable glands. Also, the cases can be silk-screen printed with customer legends and logos. Standard prices start at around £40.
Family-owned ROLEC has at least three decades of experience in the design and manufacture of industrial enclosures for electronics and electrical equipment.
ROLEC electrical enclosures are marketed in the UK by OKW Enclosures Ltd of Fareham, Hampshire.
OKW Sales and Marketing Director Robert Cox said: "ROLEC's mobilCASE enclosures have always been highly versatile and easy to customise thanks to their extrusion-based design.
"Now the new shoulder straps, tilt stands and swivel brackets will make mobilCASE even more popular," he added.
Features of mobilCASE enclosures include:

Waterproof aluminium handheld housings for indoor and outdoor applications
IP65 housings with single part box section extrusion for slide-in PCBs
IP54 housings with clip-together two-part extrusion for easy mounting of PCBs with pre-fitted displays, keypads and switches.
Also available with swivel mounts and tilt stands
Die cast lids (flat or deep) are used to close the ends of the case extrusion
Recessed area in case extrusion for membrane keypads or product labels
Deep lid version with large screw plug for inserting battery packs or a cable gland
Compatible cable glands
Accessories include battery holders, adaptor screw with cable gland, case holder, carry strap
Assembly – case extrusion, 8 mm flat die cast lid, 16 mm deep die cast lid, TPE lid gaskets (x2), screw plug, assembly screw with clear gasket, black cover plug (x6).
ROLEC designs and manufactures a wide range of metal enclosures including:

aluCASE – modern IP67 and IP69K housings with hidden fixings and integral hinges
aluDISC – round aluminium enclosures (IP67, IP69K) with flattened areas for easy fitting of cable glands
aluCLIC – IP67 and IP69K housings that clip into place quickly and easily.
For more information about ROLEC mobilCASE extruded enclosures, contact OKW Sales and Marketing Director Robert Cox +44 (0)1489 583858.
-Ends-
Notes For Editors
OKW Enclosures Ltd
15 Brunel Way
Segensworth East
Fareham
PO15 5TX
Tel: +44 (0)1489 583858
Fax: +44 (0)1489 583836