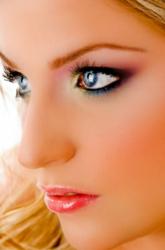 The new launch of the wrinkle-free eye cream is one of the first all-natural brands released to target the eye area only.
San Francisco, California (PRWEB) December 11, 2012
Wrinkles can happen to women as they age and one company has created a new formula to help provide a more youthful appearance. The DermologyEyeCream.com website is offering its new eye cream, Dermology, that is designed to hide dark circles, firm wrinkled skin and take away any puffiness that can appear above or below the eyes. This new all-natural cream is offered exclusively online.
Dark circles can appear under the eyes not due to stress or eating habits. This condition is most often caused by blood that has leaked through the capillaries underneath the skin near the eye. This blood can cause a purple or red appearance in those with lighter colored skin.
While no surgery currently exists to correct this problem, the natural Dermology cream was created to conceal the appearance of dark areas above or below eyes.
Surgeries do exist to correct some skin issues and these can require painful injections that could require more than one treatment to achieve results. Women that receive consultations from dermatologists and cosmetic surgeons can be presented with surgery and non-surgical options to help with wrinkles or other issues that involve appearance correction.
The new launch of this new wrinkle-free eye cream is one of the first all-natural brands released to target the eye area only. Firming skin solutions do exist that provide a temporary lift if used repeatedly according to research. One of the natural ingredients inside of the Dermology brand wrinkle cream is known as Bisabolol. This ingredient is a variant of the Chamomile plant and helps to relieve puffiness in skin that is no longer firm.
To go with the new launch of this breakthrough cream, a guarantee of 90-days is offered to women that sample the effects of this new formula. This new guarantee offers a 3-month trial period for ladies to achieve the firmer skin, reduced dark circles and firmness that repeated use of this formula could provide. This solution is offered as one form of correction for these common skin conditions.
About Dermology Eye Cream
The Dermology Eye Cream company launched its first product in 2002 and has remained a member of the Natural Products Association. The health and beauty products that are developed are designed to offer alternatives to women that seek correction for common skin issues that could affect personal appearance. The Dermology Eye Cream company offers its wrinkle-free formula for sale online to provide an alternative to laser or surgical treatments. By staffing this company with passionate health and wellness workers, the quality and satisfaction has been increased in the output of the formulas offered for sale.