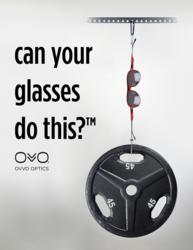 Morel Eyewear has been producing the highest quality frames for over 130 years, using only the finest materials, our design team creates an eyewear experience that perfectly blends function with fashion
San Jose, CA (PRWEB) November 08, 2012
Bay Area optometry experts of 20/20 Optometry are holding an eyewear party in recognition of the new brands of eyewear carried in its optometry office in San Jose. The highly regarded, high fashion OVVO Optics and Morel Eyewear are the brands featured. The show starts Wednesday, November 14 from 5 pm until 9 pm at 20/20 Optometry of Silicon Valley 2555 North First Street San Jose, CA 95131. This event is open to the public and cocktails and appetizers will be served.
Both brands are choice additions to 20/20 Optometry's stellar lines of fashionable as well as practical eyewear. Both use the highest quality materials to produce a sleek look that would accent anyone's style.
"Morel Eyewear has been producing the highest quality frames for over 130 years, using only the finest materials, our design team creates an eyewear experience that perfectly blends function with fashion," says Tom Castiglione, CEO of Morel Eyewear. "Our eyewear offers consumers the best possible value across all brands from patented hinge technology that incorporates the most advanced carbon fiber materials to artistic designs for the most discriminating women, Morel provides an eyeglass frame unlike any other in the market place."
Morel Eyewear of France carries their very own lines of spectacles to suit the needs and fashion sense of everyone from the on-the-go sporty women to the metropolitan businessman. Morel prides itself on constantly setting new trends while holding true to their premium standards that have kept them so popular for so many years.
OVVO Optics carries precision laser-cut frames crafted in Europe from unique composites of surgical steel and titanium. This material was originally developed during the Cold War and was meant to be used for spacecraft technology. The average frames weigh only 0.65 of an ounce and when stretched flat can hold up to 90 pounds of weight!
This durability of OVVO is meticulously tested and proven to last for years upon years. These frames are so strong and durable that before they are released to the public, each one is opened and closed 300,000 times (equal to 205 years of daily wear) and the frames remain good as new with no changes in structure or appearance.
"Combine the light, comfortable and extremely strong materials with European fashion designs to find the line that defines trends of modern eyewear," says Arthur Pilat of OVVO Optics.
For more information about Morel Eyewear or OVVO Optics, or other products and services offered by 20/20 Optometry of Silicon Valley, visit 2020eyesonline.com or become a fan on Facebook at facebook.com/2020optometry. 20/20 Optometry is located at 2555 North First Street in San Jose.
About 20/20 Optometry of Silicon Valley:
20/20 Optometry of Silicon Valley is a Bay Area optometry office located in the central part of Silicon Valley. Since it opened in 2000, the office has continued to grow because it meets the needs of its patients and provides customer service as one of its strongest attributes. During an eye exam, 20/20 Optometry's eye doctors are trained to address the cause of patients' eye-related problems, and not just the symptoms. The doctors can treat allergies, infections and various eye diseases. They design specialty computer eye glasses for computer users, successfully treat dry eyes and offer many solutions and treatments for visual symptoms. The eyewear stylists will then help clients easily find eyeglass frames that will fit each individual's personality and lifestyle. Contact lenses from 1-day disposables to custom contact lenses for irregular corneas are also available at the Bay Area optometry office.