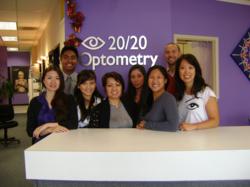 The fitting set just arrived the third week of January, and we can begin fitting the lenses now
San Jose, CA (PRWEB) January 26, 2012
For more than ten years, 20/20 Optometry of Silicon Valley has successfully served the Bay Area, providing exceptional eye care to its diverse San Jose-based clientele. And now, 20/20 Optometry of Silicon Valley is one of the few select offices in San Jose that can fit and order the 1-day Acuvue Moist for astigmatism prior to its national release in the second quarter of this year.
"The fitting set just arrived the third week of January, and we can begin fitting the lenses now," said Dr. Jeanette Lee of 20/20 Optometry of Silicon Valley. "Patients can try the new lenses if they receive a contact lens evaluation and fitting performed at our office."
The 1-day Acuvue Moist for astigmatism has been available internationally but has only just passed the FDA, allowing it to now be available for fittings and purchase in the U.S.
As one of the leading brands of contact lenses sold worldwide, Acuvue brand contact lenses are the first and only daily disposable lenses that feature a unique "blink-stabilized design" that allows a wearer to maintain consistently clear vision throughout the day. Daily disposable lenses are the healthiest option for contact lens wearers since the patient begins each day with a fresh pair of lenses versus re-cleaning existing lenses for 2 weeks or 1 month. The contact lenses offer high UV protection and dramatically reduce the chance of an eye infection. The daily disposables are convenient for travelers, swimmers or sports enthusiast.
Savvy with the eye care needs of today, 20/20 Optometry of Silicon Valley offers a variety of services, providing an eye exam for everything ranging from allergy infections to glaucoma to laser surgery exams. At 20/20 Optometry of Silicon Valley, each eye doctor is trained to address the root of eye-related problems, rather than just treating the symptoms. Its team of specialized optometrists treat allergies, infections and various eye diseases, as well as offer free consultations for patients interested in LASIK and other types of surgical procedures that eliminate the need for eye glasses or contact lenses.
"After seeing us, you will look as great as you can see!" Dr. Lee said.
For more information about any of 20/20 Optometry of Silicon Valley's products or services, call 408-433-0800, view the eye doctor on the web at http://www.2020eyesonline.com or find 20/20 Optometry on Facebook. Its office is located at 2555 North First St. in San Jose.
About 20/20 Optometry
20/20 Optometry of Silicon Valley opened its doors at the end of 2000. This office began at its location because there was no eye doctor in the central part of Silicon Valley. It was obvious that there was a need and a demand for a close, convenient eye doctor that catered to all those who work in Silicon Valley and the Bay Area.
The office has continued to grow since that first day of business because it meets the needs of its patients and provides customer service as one of its strongest attributes.
###