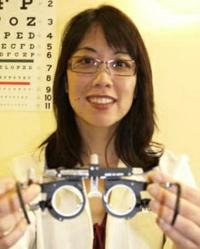 San Jose, CA (PRWEB) August 01, 2012
Bay Area optometrist Dr. Jeanette Lee of 20/20 Optometry knows that eyes are windows to the body's overall health. With regular eye exams, retinal photography or dilation, many health conditions can be seen before other side effects begin to take place. Dr. Lee explains what health concerns can be detected and why eye exams are important.
1. Diabetes: It is the #1 cause of blindness in the U.S. A telltale sign of diabetes can be detected through blood leakage from the ocular blood vessels. Patients are unaware of the bleeding until the vision begins to deteriorate.
2. High Cholesterol: A retinal photo can be taken in just a few seconds without the lasting effects of pupil dilation to show the back of the eye. High cholesterol is often revealed through these images as dark spots or glistening spots inside the blood vessels
3. High Blood Pressure: High blood pressure can be spotted through an eye exam as well. The pressure causes tiny blood vessels in the retina to kink and twist and cause blood vessels to appear dented. Bleeding leakage of the blood vessels can also occur.
4. Overactive Thyroid: Graves disease, also known as overactive thyroid, can be shown through eye exams. Enlarged eyes or bug eyes are usually an indicator of this.
5. Myasthenia Gravis: Autoimmune diseases such as Myasthenia Gravis begin to show signs through the eyes first. This disease is characterized by muscle weakness and can be detected if eyelids are particularly droopy on both eyes or by paleness of the optic nerve.
6. Cancer: Sometimes cancer that arises elsewhere in the body shows up first in the eyes, as well. The two most common cancers that spread to the eye are lung cancer in men and breast cancer in women. Eye tumors can also be seen in the eyes.
7. Aging: The body literally breaks down just as an old car would slowly deteriorating from the inside out when it's not properly taken care of. Smoking, eating high fat and fried foods and drinking alcohol all speed up the aging process, and the eyes are the first place to show visual signs of aging.
Even if you have always had perfect vision, you can benefit from eye exams, as they will still reveal veiled heath concerns completely unrelated to vision. Current problems or those to come can be seen in eye muscles, blood vessels and soft tissues, so it's important to visit an eye doctor, like Bay Area eye care specialist Dr. Lee, who performs retinal photos regularly.
For more information about retinal photos, or other products and services offered by 20/20 Optometry of Silicon Valley, visit 2020eyesonline.com or become a fan on Facebook at facebook.com/2020optometry. 20/20 Optometry is located at 2555 North First Street in San Jose.
About 20/20 Optometry of Silicon Valley
20/20 Optometry of Silicon Valley is a Bay Area optometry office located in the central part of Silicon Valley. Since it opened in 2000, the office has continued to grow because it meets the needs of its patients and provides customer service as one of its strongest attributes. During an eye exam, 20/20 Optometry's eye doctors are trained to address the cause of patients' eye-related problems, and not just the symptoms. The doctors can treat allergies, infections and various eye diseases. They design specialty computer eye glasses for computer users, successfully treat dry eyes and offer many solutions and treatments for visual symptoms. The eyewear stylists will then help clients easily find eyeglass frames that will fit each individual's personality and lifestyle. Contact lenses from 1-day disposables to custom contact lenses for irregular corneas are also available at the Bay Area optometry office.