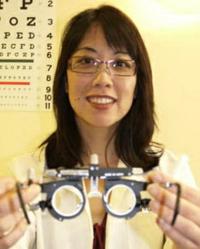 A tremendous amount of learning happens visually, so proper vision care is crucial in aiding students to reach their full potential
San Jose, CA (PRWEB) August 31, 2012
This month marks National Children's Vision and Learning Month as students nationwide are embarking on a new school year. Bay Area optometrist Dr. Jeanette Lee of 20/20 Optometry shares essential information that links proper vision care with academic achievement.
"A tremendous amount of learning happens visually, so proper vision care is crucial in aiding students to reach their full potential," as stated by the American Federation of Teachers via Dr. Jeanette Lee.
Dr. Jeanette Lee names common symptoms that impede the learning process, but may be alleviated with a simple eye exam and proper follow-up.

Headaches
Skips or rereads lines
Trouble seeing the board
Loss of place when reading
Child dislikes reading
Prefers to be read to
Difficulty paying attention, ADD/ ADHD
Difficulty remembering what has been read
Number/ letter reversals such as "b" and "d"
Homework takes longer than it should
"1 out of 4 children struggle with learning and reading because of undiagnosed vision problems," said Dr. Lee. "Over 60% of problem learners have undiagnosed vision problems."
Many schools require annual eye exams for students to ensure that each child has a successful and healthy school year. It's also important to note that although a child may have great reading skills and perfect 20/20 vision, regular eye exams are imperative as they detect potential problems to come as well as other vision problems that may not affect reading initially.
Bay Area eye care specialist Dr. Jeanette Lee offers eye exams, retinal photography and dilation to improve vision and detect and eradicate vision conditions before they emerge.
For more information about eye exams for children or other products and services offered by 20/20 Optometry of Silicon Valley, visit 2020eyesonline.com or become a fan on Facebook at facebook.com/2020optometry. 20/20 Optometry is located at 2555 North First Street in San Jose.
About 20/20 Optometry of Silicon Valley
20/20 Optometry of Silicon Valley is a Bay Area optometry office located in the central part of Silicon Valley. Since it opened in 2000, the office has continued to grow because it meets the needs of its patients and provides customer service as one of its strongest attributes. During an eye exam, 20/20 Optometry's eye doctors are trained to address the cause of patients' eye-related problems, and not just the symptoms. The doctors can treat allergies, infections and various eye diseases. They design specialty computer eye glasses for computer users, successfully treat dry eyes and offer many solutions and treatments for visual symptoms. The eyewear stylists will then help clients easily find eyeglass frames that will fit each individual's personality and lifestyle. Contact lenses from 1-day disposables to custom contact lenses for irregular corneas are also available at the Bay Area optometry office.