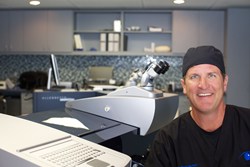 It is hard to put into words the feeling you get when you are a part of helping someone go from being legally blind to 20/20!
Houston, TX (PRWEB) July 27, 2013
Houston ophthalmologist Dr. Colby Stewart recently released a documentary that tells the story of a patient who's life had been changed by severe cataracts. The short documentary reflects the collaborative efforts of the Houston Eye Foundation and the surgical expertise of Dr. Colby Stewart to help a man exit a life of blindness to his new life with 20/20 vision. A heartfelt story of charity and compassion for a man who could not afford the treatment that changed his life. It is available to view on Dr. Stewart's website.
The documentary was centered around a Houstonian who was sent to Dr. Stewart by his local optometrist, with the diagnosis of advanced bilateral cataracts. His condition limited his vision to seeing only shadows, and labeled him as "legally blind". Over a course of several years; the progressive cataracts became worse, resulting in his inability to work, drive, cook, or play music. Unfortunately, he did not have insurance or the means to pay for cataract surgery, it was at this point his local optometrist called Dr. Stewart and the Houston Eye Foundation.
After the initial phone call, an appointment was made to see Dr. Stewart the next day. With the help of the Houston Eye Foundation, (initially founded by Dr. Colby Stewart's father the late Dr. Robert Stewart) and president of the Houston Eye Foundation Dr. Mark Vital, Dr. Stewart was able to donate his surgical expertise and help with cataract surgery. The documentary chronicles the initial examination, the surgical procedure, as well as interviews from the patient and some of the key players involved with the Houston Eye Foundation.
"It was very unusual to see cataracts this bad in a young man, especially in someone that is otherwise very active and healthy," said Dr. Stewart. "There are many things that we do not have treatment for in ophthalmology, but cataract surgery is something that can change a person's life in the matter of a few minutes."
The Documentary video was filmed with Dr. Stewart Canon 5D SLR to help promote the Houston Eye Foundation, and to promote awareness that there is help for people who need eye treatment but don't have the insurance or the means to pay. Dr. Stewart was honored to be voted "Doctor of the Year" in 2012 for his charitable contributions and surgical skills to patients in need for surgical eye care.
Dr. Stewart has been performing small incision, topical, no-stitch cataract surgery for over 15 years, and has been one of the first ophthalmologists in Houston to perform Laser assisted cataract surgery. Although cataract surgery makes up a major part of his practice, he also specializes in the blade-free, all laser lasik procedure to help patients decrease or eliminate the need for glasses or contacts.
The documentary plays in Dr. Stewart's office for patients in the waiting room and has been posted on his website as well as his YouTube channel. A link to the video can be found here: http://colbystewartmd.com/playlist/86/1136.
For more information on the new advances in Laser Cataract surgery or the latest news on Lasik surgery, contact Dr. Stewart by calling 800-424-1019 or visiting http://colbystewartmd.com.
About the Company:
Dr. Colby Stewart has always known that he was going to help people with their local eye care. Raised in Houston, Texas, by his mother and his father, the late Dr. Robert Stewart, Colby was constantly surrounded by the nation's leading ophthalmologists and their patients. Dr. Robert Stewart was one of the original founding doctors at Houston Eye Associates and eventually helped create one of the largest ophthalmology group practices in the United States.
Dr. Stewart has been honored as a PS250 surgeon (an elite group of the nation's top 250 surgeons in the field of IntraOcular Lens surgery). As a premier eye doctor, his practice is dedicated primarily toward surgical eye correction. He has a large referral base for local optometrists as well as ophthalmologists who specifically choose him for their patient's surgical eye corrections. Member of the American Academy of Ophthalmology, American Society of Cataract and Refractive Surgery, and a Fellow of the American Board of Ophthalmology. Board Certified by the American Board of Ophthalmology and re-certified by the Board in 2010.