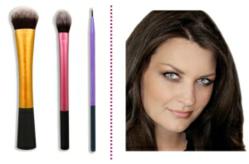 ... Real Techniques [brings] women high-tech tools that deliver high-definition results, alongside tutorials packed with techniques you can use to boost your look...
Los Angeles, California (PRWEB) November 26, 2012
Real Techniques, with professional make up artist and "Pixiwoo" Youtube sensation Samantha Chapman, partners with Sweepstakes Ninja for a sweepstakes giveaway. Samantha's 15-year career as an accomplished professional eye makeup artist, makeup tutor, vlogger, blogger, and beauty boot camp instructor is primed by extensive experience in the fashion, television and music industries. Real Techniques is a new cosmetic brush line that are high-tech brushes, with industry-quality makeup tutorials, making the woman the make up expert. Sweepstakes Ninja helps consumers engage with brands such as RealTechniques through social media, video marketing, blogging, partner websites and forums, and more through their online sweepstakes giveaways.
Real Techniques brushes combine premium materials with innovative design to make creating a pixel-perfect look easier than ever. Sam and her sister Nicola (from the "Pixiwoo" Youtube channel) offers a compilation of instructional makeup tutorials for in-demand styles such as smokey eyes with http://www.RealTechniques.com. Real Techniques brushes combine premium materials with innovative design to make creating a pixel-perfect look easier than ever.
Sweepstakes Ninja offers consumers the chance to enter multiple sweepstakes through their innovative online sweepstakes draws (http://www.sweepstakesninja.com/sweepstakesdraw/draw/realtechniques-makeup-brushes/). They are daily entry draws, that not only give consumers chances at winning amazing prizes, but also give companies daily branding exposure to consumers. Through the sweepstakes draws, contestants have a chance of winning one of several make up brush packages sponsored by RealTechniques.
The sweepstakes promotion officially runs until December 1st, 2012. To increase their chances of winning, the entrant may share sweepstakes links with friends, family, and through social media. This is a win-win situation for both RealTechniques and the entrant. Entrants increase their chances of winning award winning products, and more people learn about the RealTechniques make up brushes and online video make up tutorials. There have already been 10,000+ individuals introduced to the RealTechniques product line through Sweepstakes Ninja
For more information about how Sweepstakes Ninja promotional marketing services deliver profits for companies, visit http://www.sweepstakesninja.com/site/company_sweepstakes/.
About SweepstakesNinja.com
SweepstakesNinja.com is the leading provider of fun and interactive sweepstakes. The company matches consumers with companies, in a fun and interactive manner. Consumers have the chance of winning amazing prizes. Companies benefit from daily exposure to their brands, word of mouth advertising, customer loyalty, and long term increases in profit. Visit http://www.sweepstakesninja.com/ for more details.