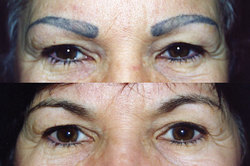 We give clients a second chance for clear skin.
San Diego, CA (PRWEB) September 1, 2010 –
In the spring of 2010, A Tattoo Removal Laser Clinic® purchased the latest Q switched YAG laser tattoo removal technology for safe and effective treatments for its clients. More recently, the clinic posted a video on YouTube.com showing eyebrow tattoo removal. The video (which can be viewed at http://www.youtube.com/watch?v=iOzokFiSaAA) is the latest addition at trlaser.com, where visitors can see many laser tattoo removal before and after photos. Tattoo laser treatments provide optimum results and safety when removing permanent makeup and tattoos.
"The response to our eyebrow tattoo removal video has been positive. We know that most people are very concerned about safety, comfort, and results. That's why we do a thorough consultation, reviewing treatment options, risks and benefits of the procedure," explains Patricia Rubin, Nurse Practitioner of A Tattoo Removal Laser Clinic®.
The San Diego tattoo removal clinic overlooks Mission Bay and the Pacific Ocean, providing clients tattoo removal in a calming spa atmosphere with soft music and complimentary aromatherapy to ensure a relaxing experience. Outcomes are maximized with Q switched YAG laser technology and many years of expert laser experience. The clinic specializes exclusively in and has been providing laser tattoo removal services since 1999.
Patricia Rubin, N.P. explains the process: "Each procedure is begun with photography. The patient will have three layers of eye protection applied, and the area is numbed to avoid any pain. The patient's comfort and safety are very important. All laser procedures begin with a test spot. This guides us in setting the parameters and determines the suitability of customized laser removal. The YouTube video demonstrates the procedure."
The video shows laser treatment on a female patient with exaggerated and uneven eyebrows who wishes to return to her natural eyebrows.
"She regretted getting the permanent makeup immediately after it was applied. While many patients with a tattoo they do not like can simply hide it with clothing, those with tattooed eyebrows can't. It's very emotional, leading to a lack of self-esteem and confidence. Patients come to us from all over the United States, Canada, Europe and Japan to take advantage of A Tattoo Removal Laser Clinic services. It's really rewarding to be a part of such a positive improvement for our clients," Rubin reports. "We give clients a second chance for clear skin."
FAQs about tattoo laser treatment are reviewed during a private consultation, including the cost, process and typical results. A consultation appointment can be arranged by calling 858.272.2021.
About A Tattoo Removal Laser Clinic®:
A Medical Corporation established in 1999, A Tattoo Removal Laser Clinic® specializes solely in the latest, most effective and safest tattoo removal procedures. Patricia Rubin, RN, MSN, NP, DNC is an expert who has performed thousands of laser removal procedures using state of the art FDA approved lasers. The clinic specializes in the removal of eyebrow tattoos, professional tattoos and homemade tattoos, along with partial tattoo removal, tattoo cover-up, the lightening or fading of pre-existing tattoos before a cover-up, and accidental/traumatic tattoo removal. A Tattoo Removal Laser Clinic is the first and only clinic in the United States that offers just one service of laser tattoo removal successfully for more than a decade.
###