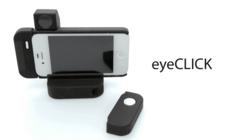 iOS6 hasn't changed technically, meaning eyeCLICK will work for the new iPhone without us having to alter the technology used for the current eyeCLICK
— David Wu
LOS ANGELES, C.A. (PRWEB) July 13, 2012
The highly anticipated and highly speculated iPhone 5 has been rumored to release this upcoming fall and for many iPhone 4 and 4s cases, it's adjustment time.
The iPhone photography accessory, eyeCLICK has already accounted for this and will be offering cases for both iPhone 4 and 5 sizes.
"iOS6 hasn't changed technically, meaning eyeCLICK will work for the new iPhone without us having to alter the technology used for the current eyeCLICK," says David Wu, creator of the eyeCLICK. "We are pleased to offer the compatible case on Kickstarter so backers should receive it shortly after the iPhone 5 is released."
Staying on the cutting edge of technology is important for entrepreneurs like Wu. With advancements in photography and mobile phones coming more rapidly, making products that coincide with game-changing advancements like an iPhone 5 release are vital to the success of the eyeCLICK.
"We have a very forward thinking team and offering the iPhone 5 compatibility to our Kickstarter backers opens up interest for those who plan to upgrade this fall," says Wu.
The eyeCLICK uses a remote control to activate the iPhone's camera from up to twenty-one feet away, making portrait photos easier to take with iPhones. The product market for both photography and mobile technology are continually progressing together and the eyeCLICK is showing it can keep up. Instagram and other mobile photography apps are easily integrated within the eyeCLICK, making it even more convenient.
The eyeCLICK Kickstarter campaign still has fifteen days remaining to reach its pledge goal of $20,000 and is currently just over $7,600. The new iPhone 5 compatible case will be offered alongside the iPhone 4/4s compatible case in a new reward starting at $95. Expected delivery of the new case is in December of 2012.
For more information on the eyeCLICK Kickstarter campaign visit http://bit.ly/eyeClickKS.
About eyeCLICK
The eyeCLICK is a simple camera remote accessory for iPhone 4/4S and future iPhone 5 that enables you to take photos and videos of friends and family without being confined to an "arms length" away. By making it wireless, it frees you from the usual limitations associated with taking photos and videos.
###