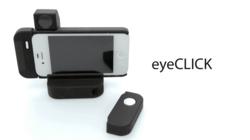 We are excited to offer the eyeCLICK as an accessory that can really enhance the quality and simplicity of photos taken by iPhone users everywhere
— David Wu
Los Angeles, CA (PRWEB) July 12, 2012
A new iPhone photography tool, eyeCLICK, is gaining backers through their crowdfunding campaign on Kickstarter and moves into the second half of the Kickstarter campaign with new updates and features.
The eyeCLICK is a device that allows users to take a photo from their iPhones with a remote control and now makes the awkward "arm's length photo" unnecessary. The multi-piece eyeCLICK comes with a stand, protective case, remote control, electronic receiver and an optional HD lens mirror.
"Both the iPhone 4 and 4s have excellent HD quality cameras and many people use their phones as their primary photography device," said David Wu, eyeCLICK creator. "We are excited to offer the eyeCLICK as an accessory that can really enhance the quality and simplicity of photos taken by iPhone users everywhere."
The eyeCLICK's remote control can activate the iPhone's camera up to 21 feet away giving more flexibility to portrait shots. With the HD lens attachment, the eyeCLICK redirects the eight (8) megapixel lens on the back of iPhones to the viewfinder screen so the user can take a higher quality shot without having to guess what will be cropped out.
With 16 days remaining in the Kickstarter campaign, Wu recently announced updates that included different colors and customization options to the eyeCLICK.
"We've added five new color options, including pink and a Kickstarter themed green and black version," said Wu. "We've also given our backers a chance to customize their case with a personalized message, most likely their names, on the cases they order."
The eyeCLICK can be pre-ordered starting at the backer level of $30 and the HD attachment is included starting with the $35 pledge level.
For more information on the eyeCLICK Kickstarter campaign visit http://bit.ly/eyeClickKS.
About eyeCLICK
The eyeCLICK is a simple camera remote accessory for iPhone 4/4S that enables you to take photos and videos of friends and family without being confined to an "arms length" away. By making it wireless, it frees you from the usual limitations associated with taking photos and videos.
###