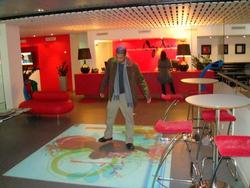 "The EyeClick installation is a great showcase for how clients can use innovative technology to drive deep brand engagement and interaction in out-of-home and in-store environments." Maria Mandel, Executive Director of Digital Innovations at Ogilvy
(PRWEB) March 17, 2010
After the successful partnership between EyeClick and OgilvyOne Worldwide in London and Beijing, it was time to bring EyeClick's innovative technology into Ogvily's headquarters in NYC. Together the goal is to push emerging technologies into marketing campaigns and deliver a personal digital branded experience. The Ogilvy Digital Lab Network includes showrooms that feature the latest technology in digital marketing; EyeClick's interactive platform was a wonderful addition to the digital lab's arsenal.
"Installing a system at Ogilvy's headquarter in NYC is another major step in the strategic worldwide partnership between EyeClick and Ogilvy." said Ariel Almos, Founder and CEO of EyeClick.
Maria Mandel, Senior Partner Executive Director of Digital Innovations & Digital Lab NA at Ogilvy expressed her enthusiasm: "The EyeClick installation is a great showcase for how clients can use innovative technology to drive deep brand engagement and interaction in out-of-home and in-store environments."
EyeClick's interactive floor EyeStep is showcased in the NYC Lab. It brings innovative marketing tools to life so that clients, visitors and staff may experience them first hand. The timing of EyeClick's installation was coordinated to coincide with Ogilvy's effort to celebrate gaming month. EyeStep enables Ogilvy's talented designers to conceptualize, design and create new games utilizing EyeClick's interactive software platform.
The Digital Lab has become a key strategic proposition within Ogilvy with Labs in London, New York, Singapore, Tokyo, Sao Paolo and Beijing, with more to come.
EyeStep is a prime example of the type of fun, innovative solutions that have come to define EyeClick over the years. The new platform is designed to be a highly-effective marketing and brand-enhancing tool that captivates consumers in retail environments, trade shows, museums, lobbies,open spaces, playgrounds and visitor centers. EyeStep software solutions can deliver effective and engaging messages to any audience at any time.
About EyeClick –
EyeClick specializes in creating inventive products that transform designated spaces into magical experiences. The company's EyeStep, EyeTouch and EyeBoard products open up a world of possibilities for brands to effectively communicate with target audiences in out-of-home locations. EyeClick has helped leading brands, from Samsung and Volvo to Nokia and GE, transform their floors, walls and window areas into spectacular interactive displays that leave a long-lasting impression on consumers. EyeClick gives event and trade show organizers, retailers, advertisers and media companies the ability to showcase rich interactive digital content in public spaces, including convention centers, promotions, malls, airports and chain stores
About Ogilvy Worldwide –
Oglivy Worldwide is the strongest, most experienced and most highly awarded one-to-one marketing network in the world, with over 130 offices in 50 countries. It provides clients with a full range of direct, consulting and interactive services to deliver profitable customer relationships. The roster of clients is equally balanced between global clients including American Express, Cisco, DHL, IBM, Lenovo, Nestle, SAP and Unilever, and leading clients in our local markets. Ogilvy Worldwide is a unit of The Ogilvy Group, which is part of WPP Group plc (NASDAQ: WPPGY), one of the world's largest communications services groups.
###