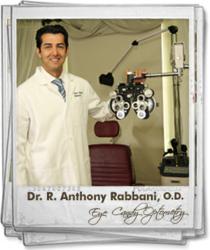 Studio City, CA (PRWEB) October 08, 2012
Finding prescription eyewear is not just about improving one's vision. These accessories are the perfect way to show off one's own unique style and appearance with some of the top brands and designs. For patients that do not know where to buy glasses and contacts though, this can turn into an expensive and time-consuming chore that no one wants to deal with. This is why Dr. Rabbani, optometrist in Toluca Lake, now offers eye exam as well as a variety of eyewear and contact lenses at affordable prices.
When it comes time to buy eyewear, there are a few considerations that every patient will need to make. First, it is essential to schedule a comprehensive eye exam in order to receive the perfect prescription, no matter one's needs. Whether individuals require multiple glasses for their active lifestyle or are simply looking to make daily chores just a little bit easier, these exams can mean the difference between struggling with one's eyesight and a lifetime of great vision.
With a completely redesigned website, more patients than ever are now turning to Dr. Anthony Rabbani and the team of specialists at Eye Candy Optometry and Eyewear. From eco-friendly eyewear to handcrafted frames, this eye doctor and his friendly staff have provided their world-classes services to patients throughout the years, helping them enjoy outstanding vision along with some of the most popular styles and designs of eyewear.
About Dr. Rabbani, Eye Doctor in Toluca Lake, Studio City
After graduating from the New England College of Optometry in Boston, Dr. Anthony Rabbani went on to specialize in some of the most effective and essential optometric services in the world ranging from basic eye exams to comprehensive LASIK surgery. He and his warm staff continue to treat patients as if they are family from the moment that they walk through the doors, helping them find the eyewear and optometric treatments that they need in order to enjoy a lifetime of great vision and good health.
Visit http://www.eyelovecandy.com or call (818) 985-3937 for more information. Eye Candy Optometry and Eyewear is located at 10718 Riverside Dr. in Toluca Lake, North Hollywood CA 91602.