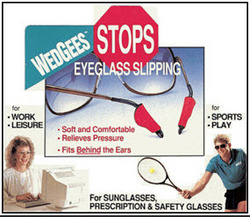 Wow! is all I can say. I've fought sliding glasses all of my adult life bending twisting my frames, it's never really done the job. I was about ready to give up wearing glasses all together when I stumbled onto Wedgees. What a life saver! Bob&Leigh Pavich
Phoenix, Arizona (PRWEB) December 11, 2009
Every year millions of people pick their new eye wear frames off a rack at their local eye care professionals' office. They happily bend, twist and spring your new frames in hopes of shaping them to fit your head and ears. Unfortunately many customers return to have their new purchase re-fitted because their eyeglasses slip out of position constantly.
How and Why Slipping Eyeglasses Can Make You Optically Challenged.
Many wearers of new prescription, safety and sunglasses are faced with an annoying constant problem… their glasses are constantly slipping down the bridge of their nose. This can cause eyestrain and headaches from out of focus eyeglasses - including head and ear discomfort from temple arm pressure.
Fortunately there is hope for over 130 million people here in the U.S. who wears prescription eyeglasses. Wedgees eyeglass retainers http://www.Wedgees.com a tiny ergonomically designed device for use on all types of eye wear helps solve these problems for eyeglass wearers and eye care professionals. This tiny solution with its new "Grip Technology" automatically adjusts, conforms & secures your eyeglass frames to the shape and position of your head, ears and eyeglasses. Additionally, Wedgees are designed to slip easily over the end of the eyeglass temple arm.
When Wedgees are positioned behind the ear, its' pressure sensitive material rests like a soft cushion and conforms naturally to the shape of the ear. This secures your glasses firmly in place, relieves temple arm pressure and another added benefit - they're hidden from view. Because of the material composition of Wedgees they are not affected by heat, cold or moisture.
Wedgees Benefits Include:

Stops Eyeglass Slipping
Hair matching colors
Will not mess up your hair
No Straps, Tubes or Cords
Relieves temple arm pressure
Not affected by heat, cold or moisture
Works for adult and children eye wear
Use on prescription, safety or sunglasses
Placed behind the ear – They are hidden from view
For all activities - from extreme sports to gardening or just reading
Makes uncomfortably big and heavy eyeglasses a natural good fit
Keeps your eyeglasses in place for proper focus (No more eye strain or headaches)
They are perfect for virtually every sport involving movement, like: golf, bicycling, tennis, jogging, basketball, soccer, bowling and aerobics.
For an unsolicited review you can go to following links..
http://www.associatedcontent.com/article/964958/wedgees_eyeglass_holder_review_of_an.html?cat=46
Wedgees are expected to be in major retail stores by late spring. They will retail for about $4.95. Wedgees LLC is currently having introductory specials at their website. More information, photos, customer testimonials and videos are available at http://www.wedgees.com.
# # #