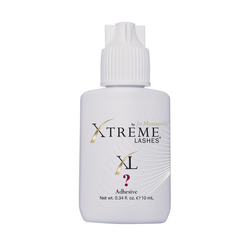 We developed this from scratch, based on what our lash stylists and end-consumers wanted, with the properties they were asking for; why not let them name?
Spring, Tx (PRWEB) August 28, 2009
In a tough economy, many businesses look for new approaches to stretch marketing dollars and promote their products. One such company recently looked to crowdsourcing through clients as a way to generate buzz and buy-in for their newest product.
Houston, TX based Xtreme Lashes®, known for their eyelash extensions and cosmetic products, spent over a year in development and well over one million dollars developing a new lash extension adhesive for their line of professional application supplies. When the product neared launching, the final step was to give it a name that would communicate the key properties to their clients and entice demand.
Instead of assigning the task to their marketing department, the company decided to crowdsource it by turning the naming over to those who would be buying it, the nearly 7,000 beauty professionals who have taken their eyelash extension training. Xtreme Lashes' CEO Matt Daoudi said the decision "simply made sense". "We developed this from scratch, based on what our lash stylists and end-consumers wanted, with the properties they were asking for; why not let them name?"
A contest was developed around the naming of the new adhesive, with a prize of $1,000 in Xtreme Lashes products going to the client who offered up the winning name. The response from the field was more than expected when almost 1500 entries were submitted within the week, but the biggest surprise was the excitement the contest generated in anticipation of the actual product.
"Our clients were having fun, being creative and really enjoyed being part of the marketing process," said President and company Founder Jo Mousselli, RN. "We received numerous emails, postings on our Facebook page and phone calls from clients with questions about the adhesive, wanting to know when it would be available and thanking us for letting them be part of such a monumental decision."
The company's Board of Directors narrowed down the 1500 name submissions to a select top-five and turned the proposed names back over to clients for a general vote, leaving the final decision of the product's name in their hands. When the 391 votes were in, the winning entry was Fusion, submitted by an Xtreme lash stylist from Wyomissing, PA, Kathleen Shiffert.
The company did make a final tweak to incorporate more descriptiveness to the winning name by adding "Flex" to "Fusion", based on a suggestion from their Artistic Director Noor Daoudi, ending in the final result of XL FlexFusion Adhesive. The launch is for October and the company says numerous calls and emails are still coming in daily as clients await the release.
"It was our first experience with crowdsourcing but based on the success we had, it won't be our last," said Jo. "The buy-in was instant as our clients read and reread all the information we had sent them about the adhesive to find inspiration for their submissions. They're very educated about it now, excited to try it out and eagerly anticipating the launch."
About Xtreme Lashes: Xtreme Lashes® offers the finest semi-permanent eyelash extensions, products and accessories on the market. Professional application product sales are limited to credentialed beauty, health and medical professionals trained by the company. Xtreme Lashes® extensive training programs ensure a standardized, high-quality service and safe customer experience every time. Xtreme Lashes® feel natural are available in colors ranging from subtle to bold. The company also offers a range of cosmetic products to compliment the eyelash extensions, available through salons and spas globally. Visit http://www.xtremelashes.com for more information.
###