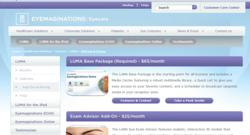 We are very excited to unveil our new corporate website!
Baltimore, MD (PRWEB) June 14, 2011
Eyemaginations is pleased to announce the launch of a new and much anticipated corporate website designed to further advance public knowledge of the Eyemaginations portfolio of patient education and marketing solutions.
With a slick new look and cleaner navigation, the goal of this new resource is to better meet the needs of clients by providing more detailed pricing information on products, improved interactive communication with users, and to remain current with constantly evolving web technologies.
Jeff Peres, president and CEO of Eyemaginations, stated "We are very excited to unveil our new corporate website. At Eyemaginations, our primary goal is to arm the healthcare professional with the most effective, up-to-date tools that provide the appropriate combination of education and marketing. With all of its modernized features, we anticipate that our new website will extend that same philosophy onto the World Wide Web."
A few of these new website elements include:

Enhanced customer care center housing a series of informative "How To" and "Best Practice" videos designed to further assist clients on how to better educate their patients
Unique pricing structure that easily explains each cost scenario breakdown
Online scheduling platform that allows users to register for webinars that help to visualize each product online
Widely seen as a leader in patient education software, Eyemaginations offers resources that are designed to help practices simplify and clarify complex topics by helping physicians visually explain anatomy, diseases, and treatment options. For the full suite of products, visit Eyemaginations online on their new website at http://www.eyemaginations.com.
About Eyemaginations
Eyemaginations, Inc. is a health care media company focused on solutions that support professionals, patients and corporations in communicating and understanding complex topics. The company's in-depth experience with animation, design and software has enabled Eyemaginations to create integrated systems that provide clear and concise education solutions. Eyemaginations has a portfolio of products that are focused on eye care, ENT, audiology and facial aesthetics. The company has offices in the United States and Europe. Eyemaginations may be reached by phone at 1-877-321-5481, email at info@eyemaginations.com or online at http://www.eyemaginations.com.
###