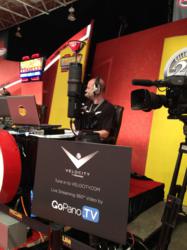 PITTSBURGH, PA (PRWEB) May 17, 2012
Gentlemen, start your engines… Today, EyeSee 360, the leader in one-shot 360 degree video and panoramic imaging, is proud to announce a special collaboration with Discovery's Velocity Network to live stream the 2012 "Mecum Auction: Muscle Cars & More" TV Series in 360 video. For the first time ever, auto enthusiasts will be able to watch in 360 degrees as Dana "The Dealmaker" Mecum auctions his selection of automobiles headlined by 1967 Chevrolet Yenko Camaro, 1963 Corvette ZO6 and a fully restored 1968 L88 Convertible.
"Capturing this event allows us to further take 360 degree video to television and broadcasting, reinforcing our goal to bring 360 video into the mainstream market. Our technology enhances the traditional video experience, allowing every viewer to choose his/her own perspective," said Tim O'Neil, CEO of EyeSee360. The four day event will be broadcasted live on velocity.discovery.com.
During the 360 degree live stream event, fans will be able to access a 360 degree camera that provides a panoramic look at Mecum's 25th Anniversary Auction. The technology allows for millions of viewers to interact with the same live video from a perspective of their choice by dragging the camera right, left, or up and down in a 360 degree circle to watch their favorite cars cross the auction block.
Viewers can watch the 360 degree live stream broadcast May 16-19, 2012 at: http://velocity.discovery.com/videos/. The full 360 degree video live stream schedule is as follows:
Wednesday, May 16: 2:00 –10:00 PM (ET/PT)
Thursday, May 17: 2:00 – 10:00 PM (ET/PT)
Friday, May 18: 2:00 – 10:00 PM (ET/PT)
Saturday, May 19: 12:00 – 8:00 PM (ET/PT)
EyeSee360's 360 degree video technology was originally designed for the military and the aviation industry however, EyeSee360 has expanded that footprint making 360 degree video available in the consumer space with products like the GoPano plus and the GoPano micro. In 2011, EyeSee360 launched the first ever 360 degree video sharing website, http://www.gopano.com, and in less than a year users have shared and uploaded nearly 10,000 videos.
EyeSee360 has also developed 360 degree technology services for the broadcasting and television market and recently, a leading smart TV manufacturer has shown interest in embedding the GoPano 360 degree video technology in their televisions.
"Using GoPano technology, users can create a next generation video experience. Using GoPano lens attachments like the GoPano plus, GoPano micro or custom GoPano lenses, users share not only a video but an immersive experience," said O'Neil.
For more information about EyeSee360's technology or to buy GoPano products, visit http://www.gopano.com.
About EyeSee360
Founded in 1999 as an offshoot of Carnegie Mellon University, EyeSee360 is the technology leader in one-shot panoramic imaging for both still and video photography. EyeSee360 has applied decades of research in robotic vision, image rendering, and software interface expertise to the challenge of creating interactive panoramic still images, prerecorded and live 360 degree video. Widening the angle of iPhone video, EyeSee360's GoPano micro brings panoramic video to the masses, changing how 360 video will change the world. To learn more about EyeSee360 and the GoPano micro, visit http://www.gopano.com.
About Velocity
Velocity, a division of Discovery Communications, Inc. (Nasdaq: DISCA, DISCB, DISCK), is the upscale men's cable network that provides high-octane programming for its viewers. Velocity programming is diverse, intelligent and engaging, with series and specials representing the best of the automotive, sports and leisure, adventure and travel genres. Formerly HD Theater, the fully HD network is available in approximately 40 million homes. For more information on Velocity, please visit Velocity.tv, on Facebook at facebook.com/VelocityTV or on Twitter @VelocityTV1
About Discovery Communications
Discovery Communications (Nasdaq: DISCA, DISCB, DISCK) is the world's #1 nonfiction media company reaching more than 1.5 billion cumulative subscribers in 210 countries and territories. Discovery is dedicated to satisfying curiosity through 142worldwide television networks, led by Discovery Channel, TLC, Animal Planet, Science and Investigation Discovery, as well as U.S. joint venture networksOWN: Oprah Winfrey Network, The Hub and 3net, the first 24-hour 3D network.Discovery also is a leading provider of educational products and services to schools and owns and operates a diversified portfolio of digital media services, including HowStuffWorks.com. For more information, please visit http://www.discoverycommunications.com.
About Mecum Auctions
The Mecum Auction Company has been specializing in the sale of collector cars for 25 years, now offering more than 10,000 vehicles per year. Mecum Auctions is the world leader of collector car, classic motorcycle, vintage wooden boat and road art sales. Auctions are held throughout the United States and broadcast live on Discovery's Velocity Network. For additional information, visit http://www.mecum.com or call 262.275.5050 visit us on Facebook at facebook.com/mecumauction or on Twitter @mecum.
###
Media Contact
Katie Foley
Account Supervisor
lotus823
Office: 732.212.0823
Email: katief(at)lotus823(dot)com