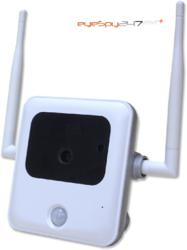 The EyeSpy247EXT+ offers wireless CCTV effortlessly in one compact box.
London, UK (PRWEB UK) 21 March 2012
To all intents, IP cameras have traditionally been notoriously hard to setup, proving at times a hair pulling experience for everyone other than those with networking skills. The EyeSpy247EXT+ not only banishes complex setup requirements but adds value by extending the capabilities of what a wireless camera can do.
What sets it apart from other wi-fi security cameras is its unique blend of high definition video, built-in ready-to-use DVR, easy install software, and exclusive connectivity to EyeSpy247's renowned cloud based recording and alerts platform. Making it a truly all-encompassing video security solution.
"Now there's no need to buy an expensive combination of individual IP cameras and recording hardware or software or spend endless hours battling with cabling and configuration as the EyeSpy247EXT+ offers wireless CCTV effortlessly in one compact box." says Ms Bindu Gor, Marketing Director at EyeSpy247.
High Definition 720p video available in three stream types (H.264, MJPEG and MPEG4), long range WiFi N mode connectivity, on-board recording to a pre-installed 32GB micro SD card with remote playback of clips, infra-red night vision up to 15 metres, 2 way audio, plus motion, PIR and audio trigger sensors are just some of the myriad of capabilities packed into its tiny form factor.
Specially designed software takes the hassle out of setup and viewing on any home or business network too. Add in the benefits of EyeSpy247's cloud CCTV service that comes bundled with every wireless camera, including online storage for recordings, email and SMS alerts and more, and the EyeSpy247EXT+ becomes a stand out candidate when it comes to a versatile and comprehensive video security camera.
With the summer holidays just around the corner the EyeSpy247EXT+ offers people not just an easy way to add video security to their homes and but also be able to check in on their property from the comfort of a computer or smartphone, no matter where they are in the world. Moreover, they'd know that if something untoward should happen recordings would be safely tucked away on the EyeSpy247 cloud system for easy retrieval whenever they need.
The EyeSpy247EXT+ joins a growing family of incomparable IP cameras at EyeSpy247 and at an RRP of £249.99 offers an affordable, CCTV in-a-box solution that's accessible to all.
About EyeSpy247
Harrow (North West London) based EyeSpy247 is part of Defuturo Ltd - a fast growing IP CCTV company whose core team has experience of providing award winning Internet services to thousands of customers over the years.
The unique all-in-one Internet based home/business surveillance system from EyeSpy247 includes a range of indoor and outdoor IP network cameras. The company has had many of its products classed as a 'best buy' by leading independent consumer technology publications as Computer Active, PC Pro and CNET.
EyeSpy247 would be delighted to provide units for review to related home/technology/gadget publications and websites.