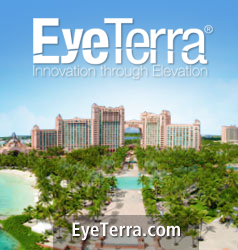 Explore more with EyeTerra's resolutionary technology.
Kansas City, MO (PRWEB) May 07, 2012
EyeTerra's Destinations Solutions Division has created an aerial imagery solution that includes an integrated 3D mapping tool to showcase the entire island of Paradise Island. Through the use of a proprietary photo capture device and an interactive web interface EyeTerra has created an immersive user experience for http://www.GoParadiseIsland.com.
EyeTerra has taken the "virtual tour" to new heights by capturing an entire island from an aerial vantage point and delivering the 360-degree imagery through an engaging and simple to use website interface.
It all starts with a customized 3D map of Paradise Island where the viewer may select different vantage points of the island from a bird's-eye view. Within this immersive tour, the user may select other aerial vantage points or find places to play, dine or stay at hotels such as Atlantis.
"The immersive imagery created by EyeTerra will change the way vacationers select their travel destinations," said Dennis Gray, Founder of EyeTerra. Each panoramic view offers up a visual experience as if you were actually on location. The interactivity of the product allows the user to navigate where he or she desires to go on the island as opposed to a scripted photo gallery or video.
In addition to providing immersive imagery products for travel destinations, EyeTerra offers services for municipalities – and industries such as real estate, education, athletics and the medical field with products such as OverKC.com.
EyeTerra Destination Solutions provide a unique marketing and mapping resource for vacation resorts, hotels, golf courses, stadiums and event locations. Expansive and fully navigable aerial views invite browsers to zoom in for 360-degree tours of amenities, restaurants or whatever else they wish to explore. Stunning, informative interactive images attract visitors, members and bookings more persuasively than ever before.
EyeTerra Destination Solutions helps clients:

Document important events
Utilize as a future planning tool
Increase efficiency of foot traffic
Increase occupancy and attendance
Offer guiding and mapping tools for visitors and clients
Provide dazzling showcases for amenities and facilities
For a full demonstration and to preview the technology visit http://www.eyeterra.com or call (816) 678-8019.
###