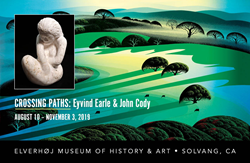 SOLVANG, Calif. (PRWEB) August 08, 2019
A new art exhibition, "Crossing Paths" debuts Saturday August 10 at Elverhoj Museum of History and Art. Featured will be artworks by American master Eyvind Earle and new works by sculptor John Cody.
The public is invited to celebrate this artistic reunion and the unveiling of Cody's newest sculpture at the Opening Reception on August 10 from 4 to 6 pm. There is no charge for admission.
These two accomplished artists first crossed paths in Solvang in the late 1960s as their work garnered critical acclaim and collectors came looking for their work at a local gallery. For decades their lives and artistic endeavors intersected, often inspired by a love for art and the local environment.
For a ten year period between 1968-1978 Earle resided in Solvang. He found inspiration in the natural beauty of the area as is evident in his many artworks depicting Santa Ynez Valley and Central Coast locations, the theme for the art on display.
Earle's career encompassed many different fields. An artist, author and illustrator, by the early 1950s he was working as a background painter on classic animated feature films. After about 15 years creating animated art, Earle returned to painting full time in 1966 and kept working until the end of his life in 2000. In addition to his watercolors, oils, sculptures, drawings and scratchboards, in 1974 he began making limited edition serigraphs. He left a lasting legacy of contributions to the background illustration and styling of Disney animated films, and his work is held in the permanent collection of museums around the country and has been shown in one-man exhibitions throughout the world.
"Two separate journeys brought these artists together, spawning a lasting friendship and energizing their work," said Elverhoj Executive Director Esther Jacobsen Bates. "This creative reunion was driven by Cody's new body of work. After a 10-year hiatus, he has returned to carving stone with a renewed passion and vision."
Cody's work is inspired by his love of the local environment – or more specifically, the serpentine rock found in the mountains of the Santa Ynez Valley. Internationally known for his sculpture, Cody's artwork is found in public and private collections around the country and been featured in documentary film. After his first one-man show in 1967, he was described by the Los Angeles Times as the "Miracle of Solvang." That same year, Cody's sculptures were first exhibited with Earle's landscapes, a pairing that continued until 2006.
Exhibition programming includes a family film evening on September 6 celebrating Earle's cinematic legacy with a screening of Disney's Sleeping Beauty, an artist talk with Cody on September 28 and a stone carving demonstration on October 12. This show is also a special opportunity for collectors, as many of the works will be available for purchase.
Opening Reception: August 10, 4 to 6 PM
Elverhoj Museum, 1624 Elverhoy Way, Solvang, CA 93963. Tel: (805) 686-1211 http://www.elverhojmuseum.org
Museum Executive Director: Esther Jacobsen Bates