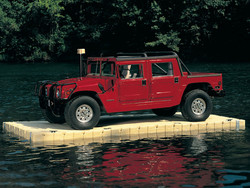 EZ Dock has a low-impact environmental footprint for commercial, residential and government applications
(PRWEB) March 22, 2011
EZ Docks are strong; there's no doubt about it. They are also attractive, cool to the touch, durable in extreme weather conditions and highly adaptable. Their commercial, residential and government docking systems have traveled around the globe and the word is spreading in Canada too; with installations in lakes, rivers and oceans in every province and territory across the country. Why? Because EZ Dock floating boat docks and lifts look fantastic and work amazing. Environmentally responsible Canadian businesses and residents are increasingly looking to EZ Dock for solutions to their waterfront needs and Knight EZ Dock is responding, with a rapidly growing network of dealers in the western provinces.
Are you looking for a dock that meets new environmental standards?
EZ Dock is the industry leader in the manufacture of environmentally friendly docks. Their docking sections are rotomolded from low-linear density polyethylene and have a patented hollow-chamber that creates pressure and suction. They do not use processed chemicals like treated wood docks (which can be harmful to fish and birds) and there is no foam or styrofoam inside (new regulations in some canadian lakes are banning docks that have foam/styrofoam). Patented connection couplers (partially funded by the Minnesota Pollution Control Agency) are engineered to be an environmentally friendly product. The coupler is made from 90% pre / post consumer waste recycled rubber.
Back in 1991, two friends set out to create the ideal dock after years of battling harsh weather conditions and having to install and remove their wooden dock seasonally. The result: the patented EZ Dock system, which today is the worldwide market leader in floating docks. In fact, the EZ Launch™ - Kayak and Canoe system is one of ten products honored for innovation at the 2010 Miami International Boat Show last year.
The EZ Dock product line includes dock sections, PWC lifts, Sea-Doo ports, drive on boat lifts, EZ Port Max, fishing piers, gangways and ramps, railings, slides, swimming platforms, walkways, anchoring and accessories.
EZ Dock floating, modular, composite docks and accessories offer advantages like no other: Unbeatable adaptability, exceptional performance in rough water, superior strength and durability, cool to the touch, low maintenance, universally accessible, versatile anchoring options, and easy installation. Distributor, Knight EZ Dock, serves western Canada and the western United States. Contact them if you, or someone you know, would like to become a dealer.
Spend more time enjoying your dock and more time on the water. It's EZ.
###