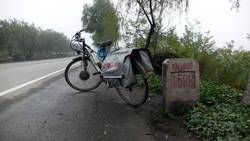 I also searched all over also for an electric bike that will meet the rigors of this ride and it seems that the Torq will be best for the job.
Cape Town, ZA (PRWEB) January 26, 2009
Zero Rally Africa (ZRA), scheduled for the beginning of this year, was designed to be a tough challenge to showcase the latest and best in vehicles in alternative fuel technologies. Makers of solar, electric hybrids, biofuel and fuel cell vehicles were expected to display their prowess and abilities, competing with each other under the harshest African environment. It would be seen as an exciting glimpse into a new 4 wheeled future without fossil fuels.
When things in 2008 unfolded to worsening conditions, with oil prices rocketing to a peak of $140 a barrel, followed by the largest financial crisis since the great depression. Automakers begin to collapse under the weight of an old world order, even as they scramble to cut operating costs, pulling out from luxurious sporting events like the F1. While they begin to develop major plans serious for fuel-efficient and electric hybrid vehicles. It would seem that even their loftier 'green' pursuits would have to be scaled back and the Zero Rally Africa has been postponed indefinitely.
"As opposed to the car in all its forms, we always want to prove the viability of our electric bicycles as a solution for more sensible future, although disappointed that we cannot participate this year under the ZRA banner, we're not going to let that hold us back," said W W Ching. "This is far too important … and fun to wait."
So W W Ching, inventor and entrepreneur of eZee bikes and Rupert Nanni (cyclist, trail guide and keen environmentalist) have planned a grueling route on their own.
With their eZee Torq trekking bike, they will travel across 3,000 kms of Africa, starting from Katima Mulilo by the eastern Caprivi Strip, climbing hills, rough roads and the Namibian desert, roll alongside the Orange river and head down to their destination in Cape Town. Averaging some 200 kms per day, they will boldly go where no 'green' vehicle has gone.
"Unlike other vehicles, electric bikes adds to but does replace the human movement, while I'll enjoy all the benefits of the electric assistance and conventional cycle, a cycle ride like this still requires physical and mental training," said Rupert Nanni who spent 3 weeks over Christmas preparing for the event. "I also searched all over also for an electric bike that will meet the rigors of this ride and it seems that the Torq will be best for the job."
"We've done several events in the past, including the length of the Mississippi river, across Australia and even across China. When the going gets tough, the tough go eZee," quips Ching.
About the Event:
Katima to Cape Town will start on the 26th of Jan and end on the 2th of Feb in Cape Town, where the bikes will be auctioned off for charity. More information and updates can be found on http://www.ezeebike.co.za/
About the Company:
Since 2001, eZee Kinetics Technology Co. Ltd has been specializing in the design, development and manufacturing of its own brand of electric bicycles. Today eZee bikes are sold around the world in over 30 cities.
Contact Information:
http://www.ezeebike.com
kenching (at) ezeebike (dot) com
# # #