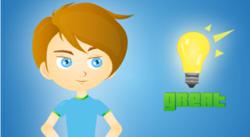 Animated "how-to" movie that gives a quick understanding of your awesome-blossom idea.
Brooklyn, NY (PRWEB) October 11, 2011
Let's say a Business has this great, big, huge, mega triple idea and the whole world needs to know about it! Forget outdated, written step-by-step instructions.
Now there's an easier way. Simply relay the plan to ezgobz inc and have it magically transformed into an Aniguide- an animated how-to movie that gives a quick understanding of the idea.
Aniguides generate more buzz than a burning beehive. They are great for sharing in any social network available and are guaranteed to keep millions of eyeballs glued to the screens.
Ezgobz team members are ready to assist in launching a small business into the global market. Ezgobz is ready to make the business social media friendly and customize marketing strategies to fit today's needs. Should Business need help explaining a product or want to introduce a revolutionary, super fantastic idea to the world but can't quite find the words; it's not a problem! Let "Ezgobz" create an Aniguide, an animated "How to" guide to fill the audience in on everything the Business has to offer.
Aniguides are accessible virtually everywhere: on the computer, smartphone, tablet, tv.
No matter if the task is as easy as eating a sandwich or as tricky as catching a leprechaun,Ezgobz can design an Aniguide to perfectly fit any requirements. In fact, the only thing easier than using an Aniguide is having someone else do the work. But remember, that someone is going to need an Aniguide.
###