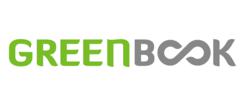 As the world's lowest-priced touch screen, it's worthy of turning a few countries' heads.
Taipei, Taiwan (PRWEB) October 20, 2011
GREENBOOK, INC. is a pioneer eBook solution company in Taiwan, introducing a brand new generation of eReaders – EZRead Touch. This newest eReader is unbeatably priced, only $95 USD. As the world's lowest-priced touch eReader, it's worthy of turning a few countries' heads. In addition, GREENBOOK also provides the non touch model at $75. GREENBOOK is renowned for its integrated eReading solutions, including high quality eReaders and international eBookstores – EZRead USA (ezread.com) & EZRead Taiwan (ezread.com.tw). Both provide diversified digital reading choices and aim to create a perfect eReading experience. By offering this $95 EZRead Touch, GREENBOOK strives to involve all continents, inviting global customers and partners to join this easy-to-use and enjoyable eReader experience. Now, no one needs to be left out of the digital-reading age.
With cutting-edge and innovative techniques, EZRead Touch performs multi-functions with impressive high efficiency. The 6-inch E-Ink touch screen makes it effortless to turn pages, draw lines, highlight sentences, and look up words in the dictionary while reading. While this new device weighs only 7.5 oz, this light-weight packs a knockout punch with its Wi-Fi connectivity, 2GB onboard storage for up to 3,000 eBooks, and compatibility with a variety of formats (i.e. ePub, PDF, etc.). In addition, with EZRead Touch's ability to access the world's largest Traditional Chinese eBookstore, EZRead Taiwan, this device can be used anytime and anywhere to buy, rent, or download eBooks via Wi-Fi. Reading and selecting books just became that much simpler.
GREENBOOK welcomes international partnerships with retailers, eBookstores, publishers, authors, and eBook lovers. Everyone in the world is invited to this eBook solution. Please visit GREENBOOK's official website (http://www.greenbook.tw/en) for more information. Starting today, the new EZRead Touch will be available by pre-ordering via email. For international inquiries, please contact sales(at)ezread(dot)com for more details.
Contact Information
Ruby Lin
rubyl(at)ezread(dot)com
GREENBOOK, INC
http://www.greenbook.tw/en
###