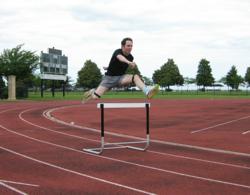 Boston, MA (PRWEB) October 21, 2011
View Inside the Shoe
The F-Scan system captures dynamic in-shoe pressure and force information, providing greater insight on the interaction between foot and footwear. Clinicians and researchers around the world use the F-Scan to better understand foot function and gait by accurately and objectively measuring plantar pressure distribution and Center of Force (CoF) trajectory. The new Datalogger option enhances F-Scan's functionality by facilitating data collection in the field – whatever outdoor, indoor or athletic environment that may be. Datalogger offers scan rates of up to 750 Hz - approximately 10x faster than any similar product on the market - making it the best system available for measuring interface pressure during "quick contact" activities such as running or jumping.
More Choices, More Freedom
Like the F-Scan Wireless system, released in 2010, F-Scan Datalogger provides the wearer with complete freedom of movement. Unobtrusive and lightweight at only 11.4 oz – including the battery – the Datalogger or Datalogger/Wireless Combination Unit sits comfortably at the wearer's waist, recording natural gait information onto its 8 GB memory stick. Paper-thin in-shoe sensors quantify force and pressure data at record scan speeds of up to 750 Hz, providing excellent time resolution for high frequency or "quick contact" activities like running and jumping. After the data is collected, it may be uploaded, viewed and analyzed on a laptop or desktop PC anytime in the comfort of a home or office. For those who want the ability to record data off-site or to view plantar pressure profiles in real-time via a Wi-Fi connection, our new F-Scan Datalogger/Wireless Combination Unit offers the best of both worlds.
Better Understanding Improves Results

For Athletes: Improve Performance Through Better Understanding of Foot Function
The combined benefits of complete freedom of movement and faster scan rates make F-Scan Datalogger the perfect in-shoe gait analysis tool for athletes in almost any sport— track and field, basketball, skiing, soccer and more! This additional insight into foot function helps sports medicine, podiatry and physical therapy professionals improve athletes' technique, evaluate recovery from injury and select optimal footwear and insoles.
"On the show, we are dealing with elite athletes, so we have to have that high sampling rate. The Datalogger offers a lot more flexibility, because we can let the athlete go through his whole routine and then just download the data at the end. We can even do multiple runs before downloading… it was really easy to use." Cindy Bir, PhD – professor at Wayne State University and technical consultant for ESPN's Sports Science
For Researchers: Full Suite of Gait and Foot Function Analysis Tools
F-Scan provides many biomechanical parameters, such as force and time graphs, position and trajectories for the Center of Force (CoF) during stance phases, and impulse (force-time) and integral (pressure-time) values. The software allows for an unparalleled understanding of what is occurring during the gait cycle, and the addition of Datalogger hardware allows for collection of data outside the office or gait lab in real-life situations and environments.
Tekscan's pressure mapping systems are used by prominent universities, hospitals, rehabilitation facilities, and corporations around the world for a variety of applications. For more information on Tekscan or the new F-Scan Datalogger and F-Scan Wireless/Datalogger Combination systems, visit the F-Scan In-Shoe System webpage, call 617-464-4500, or email marketing(at)tekscan(dot)com.
###