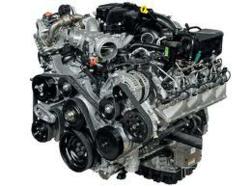 The Powerstroke engine series created for the diesel arm of the Ford Motor Company has provided the torque and horsepower ratios that buyers have come to expect.
Pittsburgh, PA (PRWEB) May 15, 2013
Ford Super Duty trucks represent the largest pickups that can be purchased in North America. This series was launched to provide commercial and non-commercial use vehicles to buyers searching for a power increase over compact trucks. The GotDieselEngines.com company sells used motors nationwide and has now lowered the price of its entire F250 diesel engine for sale inventory online. These discounts apply the the 6.0, 6.4 and 7.3 engine editions that are in used condition. This new price is one effort that has been launched by this company to provide more affordable Ford motors to buyers researching at http://www.gotdieselengines.com/ford-diesel-engine.
The F150, F250, F350 and larger trucks produced by Ford have helped to increase the worldwide sales of these pickups. Known for durability and performance, the F-Series has remained in production for more than three decades for buyers in the U.S. The Powerstroke engine series created for the diesel arm of the Ford Motor Company has provided the torque and horsepower ratios that buyers have come to expect.
The price drop for the F250 series online is helping to provide more choices for diesel engine buyers to own a genuine engine for a reduced price. These motors are ready for shipment and can be installed without errors upon delivery.
Aside from the Powerstroke discounts, additional engine types have been included this year for all online and offline buyers. Third party manufacturing companies producing engines are now part of the company inventory. The Detroit Diesel series, Cummins, DMAX and Perkins engines now represent more inventory selections for buyers apart from automaker units in stock.
These inclusions can be searched using the new company price quotation system installed earlier this year. This new system is part of the upgrades that have been made to the company website. Locating the preowned diesels for sale in the company inventory is now faster and simpler for buyers.
The warranty issues that some companies have when selling engines to buyers are now non-existent at the Got Diesel Engines Co. New policies for parts breakdown protection are now in place for buyers purchasing the company inventory or inventory referred to other retailers. This parts protection is now one way being used to assure all buyers of the preowned engines carried for sale. The low mileage units that are purchased and shipped to customers are part of the company policy changes this year. Each motor goes through an evaluation process before shipment is complete to verify all engine data is correct.
About GotDieselEngines.com
The GotDieselEngines.com company provides its preowned engine inventory for immediate sale. This company links its company database to thousands of salvage yards and junkyards in North America to create a bigger buyer network. The in stock inventory or inventory referred to other companies is paired with warranty coverage for all customer purchases. The GotDieselEngines.com company participates in regular technology upgrades to its website to create better ways for researching inventory and pricing for customers. The new quote methods now introduced online have helped this company maintain its sales volume this year compared with previous years.