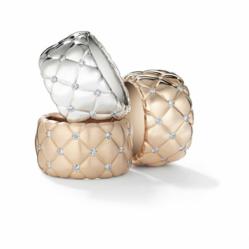 Scaleogy.com has proudly announced Fabergé's brand new additions to its already popular Treillage collection just in time for Christmas
(PRWEB UK) 12 December 2012
Scaleogy.com has proudly announced Fabergé's brand new additions to its already popular Treillage collection. Fabergé are best known for their Eggs and for the modern element that Peter Carl Fabergé brought to his eclectic pieces. They now have a whole host of stunning pieces on offer, proving Fabergé to be the number one place to shop for gifts this Christmas.
Fabergé's new pieces for the Treillage collection include rings, earrings and a lariat necklace. The designs are available in Faberge boutiques as well as their online store at Fabergé.com. What makes these designs special is their unique blend of heritage and modernity. The tactile gem-set quilting combined with the diamonds studded throughout, make these pieces really stand out from the crowd. The simple clear diamonds are perfect for the classic touch, or for something more festive this Christmas there are pieces such as the Oeuf Treillage Coloré Or Rose Mat and Oeuf Treillage Blanc Vif Coloured Stones Ring with stones in varying colours.
Those looking for that ideal Christmas gift which embodies luxury and elegance, need look no further. Scaleogy.com has all the information on Fabergé's latest pieces in their Treillage collection. Fabergé offers High and Fine Jewellery collections as well as timepieces and mens accessories, so there is something to suit everyone, especially loved ones this Christmas.
The collections are available at Fabergé boutiques in New York, London and Geneva, as well as at concessions within Harrods in London and Lane Crawford IFC in Hong Kong. Selected items are also available via Fabergé's online boutique at Fabergé.com.
Scaleogy.com is a lifestyle and luxury platform which delivers the best of the best to people who live a lifestyle of luxury and inspires those who are striving towards it.
The company has worked with some of the biggest brand names in the world and is continuing to grow rapidly. It's totally free for readers and you can find out more by visiting their website. They have also launched their I-phone App, and they will be launching the Android version in the New Year alongside many other elements to their empire, all of which will be announced very soon.
You will find news and information about fantastic luxury and lifestyle brands, products and services. at http://www.Scaleogy.com