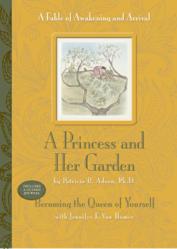 The telling of this story is more about the awakening and arrival of the reader, than it is about the journey of the Princess.
Gainesville, FL (PRWEB) October 18, 2012
From her spouse or significant other, to a demanding boss, to her children or her parents, the modern woman is excellent at taking care of other people. But there is one thing she probably forgets - how to take care of herself.
She's likely feeling the effects of all that over-extension: The 2010 Stress in American Survey (American Psychological Association) reports that almost half of all women (49 percent) surveyed said their stress has increased over the past five years. So how can she set some boundaries, and nurture the one person she's been neglecting?
In "A Princess and Her Garden: A Fable of Awakening and Arrival" (Center for Applications of Psychological Type), psychologist and author Patricia Adson, Ph.D. guides women through the self-care process, equipping them with tools for growth and emotional healing.
Using the fable of a princess who tends to everybody else's gardens at the expense of her own, the book illustrates the conundrum so many women find themselves in.
"I wrote this story for a women's support group I was leading many years ago," says Adson. "The goal was to give them a vocabulary for their emotional work, without all the psychopathology talk. When I saw the tremendous impact this story had on their healing process, I decided to make it available to more women who might need it."
"A Princess and Her Garden" was selected for two 2012 Silver Nautilus Book Awards – receiving two of these awards in one year is a rare distinction. Judges in both the Gift/Specialty and Teen Non-Fiction categories chose to honor the book, making it a double winner. Other authors who have won Nautilus Book Awards include Deepak Chopra, M.D., Caroline Myss, Barbara Kingsolver, Frances Moore Lappe', and Marianne Williamson.
"We are very honored to receive these awards," said Dr. Adson. "Our hope is that readers will use this book and journal to put their lives in perspective and learn to do for themselves what only they can do: self-care."
A welcome gift book or book club selection, "A Princess and Her Garden" includes the self-guided journal "Becoming the Queen of Yourself," which helps the reader move beyond being the "Princess of Other People." Journal sections include the gardens of "Then" (growing up, lessons and conditioning from your family), gardens from "The In-Between" (leaving home, people you met along the way, victories as well as painful disappointments), and gardens of "Now" (caring for yourself).