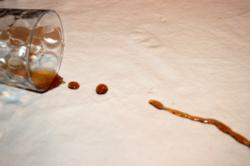 the reason is simply the need to save consumers the most money possible
Atlanta, GA (PRWEB) February 15, 2013
With the slower economy and families tightening their belts, now more than ever this new fabric protection spray is sure to offer individuals and families a better way to keep their money in their pockets instead of at the department stores buying replacement merchandise.
The main benefit of this remarkable new protective coating is that it keeps fabrics cleaner and looking great for far longer than ever before by protecting fabrics against stains and dirt build up.
Additional benefits include providing UV protection, it's odor free, water based and also doesn't effect the breathability of the fabric and doesn't cause any discoloration. Another money saving benefit is the ability to use less detergent in cleaning treated fabrics since the coating prevents staining and dirt build up in the first place.
The key to this spray is found in the latest breakthroughs in NanoTechnology. By applying a protective barrier over a fabric's surface, Cross-Linking bonding action takes place on a Nano level. (500 times smaller than a strand of hair.) This forms a repelling shield against liquids and dirt that prevents staining or discoloring. This bonding action makes cleaning much easier as dirt and stains are repelled from penetrating into the fibers. A little water is usually all you need to wash away any residue, which reduces the need for harsh chemicals.
By utilizing the latest scientific breakthrough in Cross-Linking NanoTechnology, Repel Well provides a breathable, long lasting and superior barrier against liquids and stains. And what sets this product miles above any competition is that it is an entirely green and environmentally friendly formulation. Now everyone can feel good knowing that this protection, for the first time, is achieved without using any harmful chemicals or solvents which makes Repel Well both people and eco friendly!
When questioned about target markets that Repel Well Industries was looking to focus on, Mr Damian Benko, Chief Marketing Officer, said "Our initial target markets will be focused around business attire, footwear, women's handbags and children's apparel." He went on to say "the reason is simply the need to save consumers the most money possible and these markets are in definite need, especially with our current economic climate."
When asked about existing competitors in this market place, he said "Scotchgard is the most known name brand product with similar attributes however, since our product is green, water based and contains no harsh chemicals and is also not in an aerosol can, we feel we can offer the market a completely safe and green fabric protection alternative."
With the introduction of Repel Well, there now seems to be a Scotchgard alternative that will provide extraordinary protection for fabrics and is totally green and poses no health risks. To view the Material Safety Data Sheet explaining this in detail you can view it online at: http://www.RepelWell.com/msds.
The need for this product speaks for itself and the videos that Repel Well Industries LLC. have released, show the power of this product in action. The examples that they have shown include shirts, shoes, hats, ties among other fabrics. The videos document the pouring of coffee, tea, soda, ketchup as well as chocolate syrup on these fabrics and the majority of the liquid rolls off the surface. Any left over liquid is simply rinsed off with water and no stain is left behind.
More videos can be seen on Repel Well's Youtube channel directly at: http://www.YouTube.com/repelwell.
This product signals an exciting time in technology which will help people keep their belongings looking great for far longer than ever before. And this is all achieved with no concern of any negative effects on health or the environment.
Damian Benko is Chief Marketing Office for Repel Well Industries LLC which is based in Atlanta, GA. The main focus and mission of the company is providing Nanotechnology solutions to the masses. With these advancements come great opportunities for convenience and a better life. Repel Well Fabric Protection Spray is just a start.