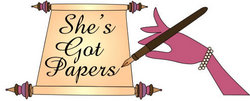 Keep On Stepping ~ No Matter What.
New York, NY (PRWEB) September 4, 2008
New York, NY September 4, 2008 -- She's Got Papers has launched an edgy, whimsical, inspiring note card line whose witty quips and enlightening anecdotes will easily allow the words to pour from the heart and soul.
"I believe that there is nothing more powerful than expressing oneself on paper. I find that process magical," says She's Got Papers Owner and Designer, Tanea Smith.
In this, her debut catalogue consisting of note cards, correspondence cards, notepads and oh yes, even business cards, Tanea has managed to cater to each age group in a way that is both fresh and fabulous. Her designs are a clever blend of cute, creative, life affirming and simply beautiful. "Anyone can create a piece of stationery. I wanted She's Got Papers to make a statement," says Smith. "She is the little girl learning proper etiquette, the young lady who needs the encouragement to be in control of her destiny, and the woman who is the lead architect on this project, which is her life."
For the little ladies, there are whimsical designs with butterflies and saddle shoes. Perfect for thank you notes and invitations, your little one will have etiquette down to a science before she even reaches fifth grade.
To further solidify her social standing, there is also the standout piece -- The Baby Business Card. The only design in the catalogue that is also offered for little boys, it is the quintessential calling card for kids with places to go, and play dates to keep. An idea that came to Tanea while in her daughter's pediatricians' office. "The Baby Business Cards are extremely practical for a mom who'd love to keep in touch with her child's new friend from the playground, or for a nanny who needs a little help keeping the little one's calendar balanced. Each card features fill in spaces for the child's name, phone number and not to be forgotten, a title that describes your kid to a tee. Speaker of Our House and Future PGA Champ have been big sellers and hilarious conversation pieces in pediatrician's offices and on playgrounds throughout the city.
For teen ladies, there are cute and hip designs that are not only age appropriate, but also gives incentive to a generation more apt to send a text message than to compose a handwritten note. Most notably there is "Learners Permit", a design that encourages brilliance and highlights the power of education. "It is by far the one design that is dearest to my heart," says Tanea. "I created it with my son Brandon in mind and hope that it will inspire him and generations to come to use their minds to change their world".
And lastly, staying true to the brand that is She's Got Papers, is the Ladies line. Brimming proudly with designs that promote Self Love, tackle body image issues with an overwhelming statement driving the point home that both a size 6 and a 16 are equally beautiful, and gently urges it's customers with a Golden Ladder and a stiletto shoe to "Keep On Stepping ~ No Matter What."
Whether the patron is in search of a one of a kind baby shower gift, personalized correspondence cards on which to write a classy thank you note, or want to send a word of encouragement to a friend, She's Got Papers helps to "Say It The Write Way."
About She's Got Papers:
The brain child of Brooklyn, New York native, Tanea Smith, She's Got Papers presents stationery that encourages creativity, self-love, inner strength, wisdom and living a life full of passion and without limits.
Available exclusively at http://www.shesgotpapers.com.
Contact:
Tanea S.Smith
Owner & Creative Director
She's Got Papers, LLC
Phone: 718 690 3712
tanea @ shesgotpapers.com
###