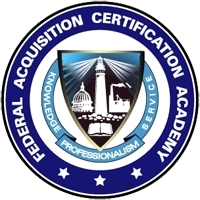 I am certain that the overall quality of our program management will improve as a result of this training.
Washington, DC (PRWEB) March 31, 2010
The FAC Academy is pleased to announce FAI's highest "5 out of 5" rating for the release of its streamlined 12-day FAC-P/PM curriculum. This program gives students seeking FAC-P/PM certification and their managers a "one-stop shop" for all their FAC-P/PM training needs.
The FAC Academy's 96-Hour FAC-P/PM Program includes the following four courses:

INTEGRATED, COMPREHENSIVE, COST-EFFECTIVE CURRICULUM
The program's integrated approach allows an individual to obtain all the training needed for FAC-P/PM certification in just 12 days, rather than the 15 to 20 days (or more) required by other programs. This translates to lower tuition fees, reduced travel costs, and significantly less time away from the office than any other FAC-P/PM program available.
The unique Government-focused design of this 4-course program covers all of FAI's mandated Competencies and Aligned Skills, without the need for a "Government Specific" course or for the optional FAI-sponsored "Capstone" course. The program is now being offered at all three certification levels: Introduction/Entry; Intermediate/Journeyman; and Senior/Expert.
ALTA , the FAC Academy's proven, student-centered educational methodology assures maximum learning outcomes and immediate improvements in productivity and effectiveness upon the student's return to the workplace. All FAC Academy® courses utilize detailed lecture, in-depth discussion, hands-on exercises and case studies, and interactive templates to ensure students' rapid learning and effective application of knowledge and skills. Using FAC-Pro, the FAC Academy's unique suite of assessment tools, students develop targeted Action Plans for individual and organizational improvements.
ALIGNED WITH OFPP'S ACQUISITION WORKFORCE DEVELOPMENT STRATEGIC PLAN AND ACQUISITION HUMAN CAPITAL PLAN INITIATIVES
This unique program incorporates all of the skills identified in Paragraph III and all of the Government-wide Competency Focus Areas identified as "Targeted Training Needs" in Paragraph IV.C of OFPP's Acquisition Workforce Development Strategic Plan. Successful completion of this program provides essential training for FAC-P/PM certification and provides targeted training for FAC-C and FAC-COTR professionals as well.
WORLD-CLASS FACULTY
The FAC Academy program is led by a world-class faculty with extensive, practical experience in both government and commercial program and project management. In addition, faculty members have been specifically selected based on their outstanding performance in the field of adult education.
PROVEN PERFORMANCE
This innovative program has already been successfully presented to more than 100 senior Federal agency program and project managers. Soon your program managers will be echoing these comments from previous students:

"This course is a must for project managers so they can garner the requisite skills and insights to keep their projects on track."
"The information presented went well above and beyond the standard training materials . . ."
"The instructor clearly explained concepts that other similar courses missed entirely. I've already begun to teach others what I learned in this class."
ENROLLMENT IS OPEN
Enrollment for FY 2010 courses is open and reservations are being accepted now. To learn how program and project managers can benefit from this unique program, or to obtain more information on the program contents, in-depth course descriptions, faculty resumes, etc, contact the FAC Academy below.
About the FAC Academy:
The Federal Acquisition Certification Academy® (FAC Academy®) is a Veteran-Owned Small Business that provides integrated, comprehensive, cost-effective solutions to the training needs of Federal and Commercial Acquisition Managers. The company's Government Agency-focused courses target the training needs of FAC-P/PM, FAC-C, and FAC-COTR professionals, and its Commercial Acquisition Manager program bridges the gap between PMBOK®-based project management and Federal Acquisition disciplines. For more information, visit FacAcademy.com, or call (703) 644-1252.
###