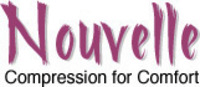 Crafted using the latest advances in compression wear, the new face wrap is exquisitely soft, durable, and highly effective.
Virginia Beach, VA (PRWEB) August 31, 2011
Nouvelle Inc. announces the latest addition to its newly expanded compression wear catalog: the advanced face wrap. This exclusive design provides the best support available for patients recovering from any combination of surgeries involving the neck and face, including cervicoplasty, platysmaplasty, submental liposuction, and otoplasty.
"Our newest design has been crafted using the latest technological advances in compression wear," said Nouvelle Inc. President Dawn Cover. "It's exquisitely soft, durable, and effective-a top performer in increasing blood circulation around surgical areas to help accelerate healing, diminish swelling, and flush out harmful fluids."
Top Five Surgeries for which the Face Wrap is Highly Effective:
1. Ear surgery
2. Facelift
3. Chinlift
4. Neck lift
5. Submental liposuction
In addition to the advanced face wrap, Nouvelle offers the full range of products designed exclusively for surgeries involving the head, neck and chin. Each design firmly yet delicately protects sensitive surgical sites from sudden movements (i.e. sneezing or coughing). Visit http://www.nouvelleinc.com for more information about post-operative dressings for facelifts, necklifts, chinlifts, otoplasty, and tumescent liposuction involving the submental (below the jaw) chin, jowls, and cheeks.
Additional Resources
Healing Transformations
An online forum dedicated to patients, physicians and families of anyone recovering from the myriad of emotional and physical health issues surrounding aesthetic and reconstructive surgery.
Facebook Page
Look for new products, stories from customers, and helpful recovery tips on Nouvelle's Facebook page. One of the first 100 people to "like" the page will be entered into a special drawing to win a free compression or shapewear product.
About Nouvelle
Nouvelle manufactures and distributes post-surgical compression wear, body shaping garments, and scar care products worldwide from its facility in Virginia Beach, Va. Its internationally-recognized products are available through approved distributors and online at http://www.nouvelleinc.com.
For more information about purchasing or distributing the company's products, please contact Dawn Cover via email or telephone.
###